Silwan's Bustan neighbourhood situation has worsened of late and is now even more urgent.
Report By Jahalin Solidarity
Silwan, Bustan neighborhood, Occupied East Jerusalem JUNE 6, 2023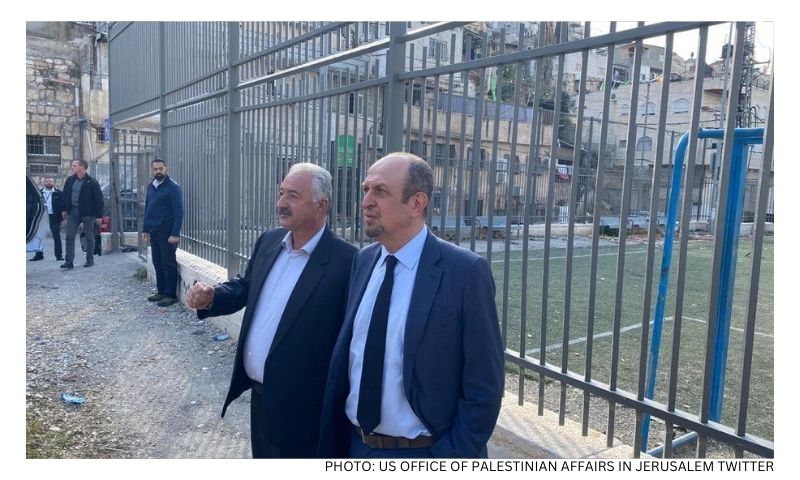 1. The most recent meeting with the Mayor, and Adv. Ziad Qawar's letter to him (1.6.23), have produced no further information as to City Hall demolition plans or the Elad (City of David) King's Garden plan, which the 1550 residents are being asked to approve, STILL without being shown it.
2. City Hall is practicing a daily regime of gross pressure and harassment. e.g., Fakhri abu Diab just received a bill for estimated outstanding income tax of NIS1.5 million! The police served him personally with a new demolition order two days ago (4.6.23) and, working with City Hall, on Sunday 4.6.23 also served Fakhri yet another summons to an interrogation at City Hall, saying that if he refuses, they'll issue an immediate demolition order. (Last month he attended an interrogation, but was told to wait outside. After three hours of waiting, he understood there was no interrogation, so he and his lawyer
left.) On legal advice, Fakhri won't attend an illegal process, so there's a possibility of imminent demolition of his home.
3. When the authorities arrive with such orders, they do so with high presence – at least 12 police officers: police, Border Police, riot police (Yassams) in full battle gear, helmets, guns.
4. The police have, as of late May, run a campaign of daily incitement against Fakhri – phoning residents' committee members, warning them to have no dealings with Fakhri, as "he is preaching violence" (a total lie). The recent YNet live TV interview in Hebrew at Al Aqsa, when a policeman interrupted Fakhri's TV interview (in Hebrew) knocking the phone out of his hand while on air, is another example of targeted harassment (the police spokesman accused him of incitement in Arabic!).
4. The mayor's Jewish Israeli press spokesman, who also works in Arabic, recently asked Fakhri to please make his work easier by not speaking in classical "Fussha" Arabic, but in conversational Arabic. i.e. Fakhri's media work is being watched by him. This echoes Adv Qawar's report some months ago: City Hall sent him a list of links to Fakhri's media work (as elected community spokesman for Silwan),reporting on demolitions, Al Aqsa updates, lack of services despite payments by East Jerusalemites of NIS 570 million per annum arnona [city rates] – with NIS 78 million p.a. being paid by Silwan residents
alone, heavy fines for "illegal building" but no available zoning for legal construction, or reportage as to 1000+ classrooms lacking in Palestinian E. J"m, especially in Silwan (meaning Hamas fills the vacuum for some 20,000+ children's education). This was City Hall's way of showing they are following his (totally unpaid) advocacy via Arabic TV, radio or print, and meetings with the diplomatic community – such as hosting US Sp. Rep. Hady Amr in his home last November or when asked to do a briefing at Al Aqsa for CEO of the European Investment Bank, Werner Hoyer, a guest of EU Rep. Sven von Burgsdorff.
5. Fakhri calls on the international community to assert adequate pressure to preserve his homeand those of Bustan community, while upholding 3rd State responsibility for IHRL/IHL, not least to prevent the high likelihood such current policies will lead to major violence. Genuine concerns exist among East Jerusalemites that Israeli authorities, led by such as Minister for Public Security, Kahanist Itamar Ben-Gvir, Deputy Mayor, Kahanist Aryeh King et al., are deliberately stoking the fires, to achieve a conflagration. Such flames will be interpreted abroad in many places as deliberate attacks on Palestinians; responses in capitals may well ignite "anti-semitic" attacks, of an anti-Occupation nature, to then be exploited by far-Rightwingers in power. Such flames locally may be exploited by those in
power to shove through major displacement via demolitions, or more direct forms of transfer and expulsion. Kahane was a Jewish supremacist who espoused violence, Nakba and wanted to establish a theocratic Jewish state.
For further essential reading on the core ideals of Kach:
https://dawnmena.org/what-israels-new-kahanist-government-really-wants/ and
https://imeu.org/article/fact-sheet-meir-kahane-the-extremist-kahanist-movement