July 25 2019 | International Solidarity Movement | Abu Dis, Occupied Palestine
On the morning of the 25th of July Huzaifa Bader, 27, was rushed to Ramleh Prison Hospital in the occupied West Bank after he had been on hunger strike for 25 days. With his health deteriorating and with no sign of progress in his legal battle, his family don't know how much longer he can cope. It may be a matter of hours.
Huzaifa began his hunger strike at the start of July having spent just over 13 months in administrative detention. Israeli Occupation Forces (IOF) have held him without charge, extended his detention arbitrarily and held him in solitary confinement.
Huzaifa, who became a father while in prison is still waiting to see his daughter, Majdal, who is now 6 months old. His family told us that with every extension of his detention he has become more and more desperate to hold her for the first time. 
The situation has only been made all the more unbearable for Huzaifa because of his medical condition. A childhood accident left him with burns on almost 90% of his body and he has required specialist medical treatment ever since. During the period of his detention, Israel has not only denied him any kind of justice (or even anything resembling due process) but has gone as far as to deny him the medical treatment he needs. His brother, Musaab, told ISM, 'we wish to see him back with his family to enjoy a normal life and to come back and receive the medical treatment he needs'.
With the situation becoming more desperate for him and his family, Huzaifa took the decision to go on hunger strike at the beginning of the month and now 25 days in he is fighting for his life. His father appealed to all the human rights organisations to take notice of the appalling case of his son, saying 'Huzaifa is strong and will keep fighting for his rights'. 
The whole town of Abu Dis has been showing its support for his hunger strike and the 40 or so other prisoners from Abu Dis held by the Israeli Occupation. A protest tent was set up by his wife and his parents and has been visited by the people of Abu Dis every single night that the huger strike has gone on. Even his six month old daughter, who now faces the prospect of never meeting her father, has attended.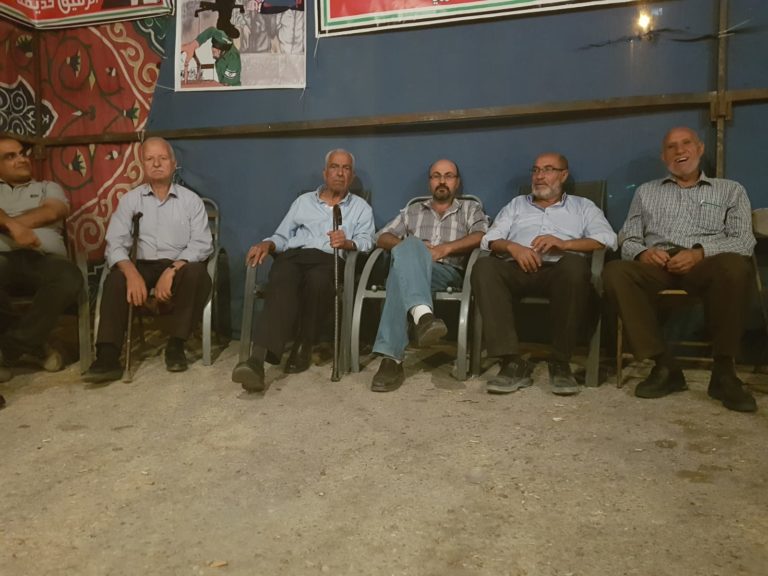 After hearing his news, his family, supporters and the people of Abu Dis have taken to the streets again while Huzaifa is fighting for justice, and his life. His family told this morning that IOF still have not let his lawyer see him.