28th Oktober 2018 | International Solidarity Movement, Al-Khalil Team | Hebron, occupied Palestine
On Monday October 22, the family of Wael Fatah Ja'aberi gathered in Ibn Rush square in downtown Hebron to protest the murder of their son and the decision of Israeli forces not to return his body to their family for more than a month. In September, Ja'aberi was killed in a combined settler and soldier ambush. His body has still not been returned to his family, who have erected an information/communication tent in the main square of downtown Hebron in protest.
A week after the Ja'aberi family erected their protest tent downtown, fathers who lost their sons in similar incidents, gathered in the tent and showed their solidarity.
The Ja'aberi family demanded the body of slain Wael, but is waiting in vain for any answer since September 9, 2018 – the day of the brutal incident.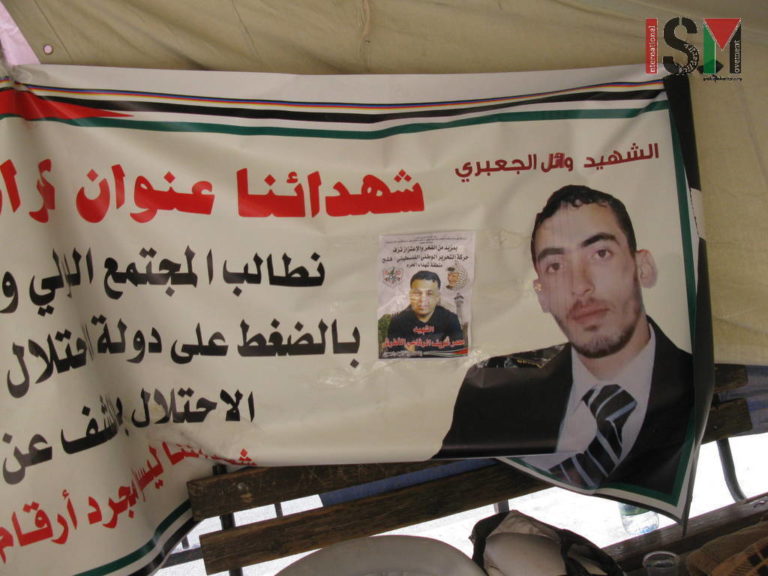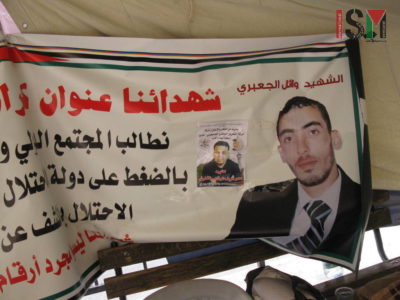 On Monday evening 9/9/2018, Wael Fatah Ja'aberi, a 37 year old father of two children, was shot down close to his home, near the intersection of the Hebron H1/H2 area division, from the entrance of the illegal settlement Givat Ha'avot, by a settler and a soldier.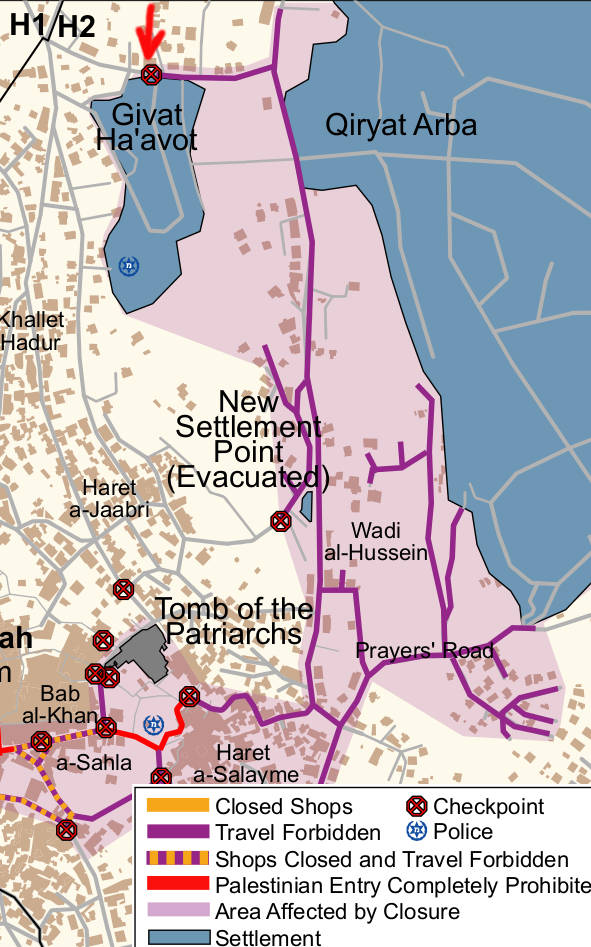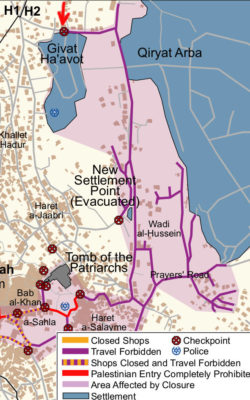 According to witnesses, Wael and his 9 year old son were walking from their home to a nearby shop, for which they had to pass the road close to a the entrance of the illegal Israeli settlement Givat Ha'avot .
When they approached the location of the entrance, still 20 meters away from it, a settler together with a soldier ambushed and killed the 37 year old father.
His 9 year old son was lucky to escape and could run back home, in shock of the cruelty he went trough. As it seems, the armed settler fired at Wael and his son, after which a soldier, present at the checkpoint, continued the shooting with several live bullets.
Israeli forces left Ja'abari bleeding to death, without giving or allowing him any kind of medical assistance.
Video recordings of this fatal incident were posted on the internet. (here, here and here)
The Israeli military claimed afterwards, that it was self defense against a stabbing attack, and did not contact the family. This claim is disputed, however, given Israeli forces' history of planting knives on murdered Palestinians and given the fact that Ja'abari was walking with his 9 year old child. No footage of the many security cameras on that location has ever been released.
Stealing corpses in the aftermath of a unlawful execution, is a standard procedure of the Occupation. Between 2008 and 2018 Israel held back more then 280 corpses.
More info on the incident: