Ashraf was arrested again on the 27th of October 2017 while giving a group of French solidarity activists a tour of the land that his village of Bil'in won back from the nearby Israeli colonial settlement of Modi'in Elite through their creative popular protests. He was accused of throwing stones at the occupation forces, an accusation he denies. His arrest is the latest in hundreds of incidents of abuse and harassment against Ashraf and other Bil'in activists in an attempt to end their protest against the Apartheid wall and colonial settlement built on their land. But, Ashraf and Bil'in remain defiant.
Ashraf's siblings, Basem and Jawaher were both killed in separate incidents while nonviolently protesting the illegal wall constructed on their land. Their murders only fueled Ashraf's determination to continue to resist, despite being wounded and arrested repeatedly including an arrest in 2011 when he was imprisoned for 8 months.
On the 27th of October Ashraf accepted a plea bargain under which he will  remain in prison for 3 months and pay 5000 shekel in addition to a suspended sentence of eighteen months for five years. Had Ashraf not accepted, he would have remained in detention until the end of proceedings against him which would last for a year or more. "Israel is not a democracy. It is not ruled by laws. It is a criminal occupation that is ruled by force alone," Ashraf told the ISM.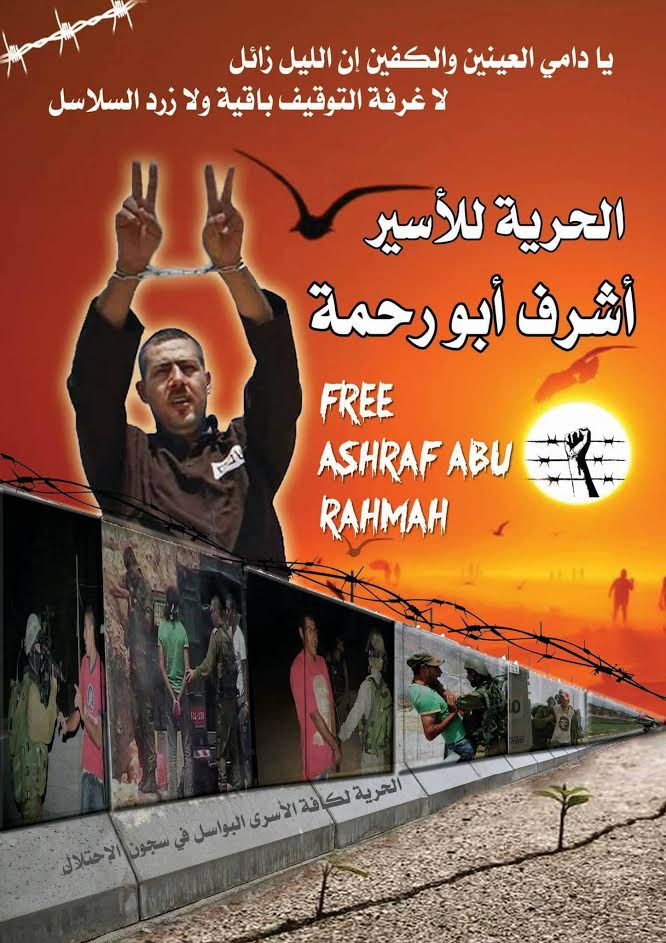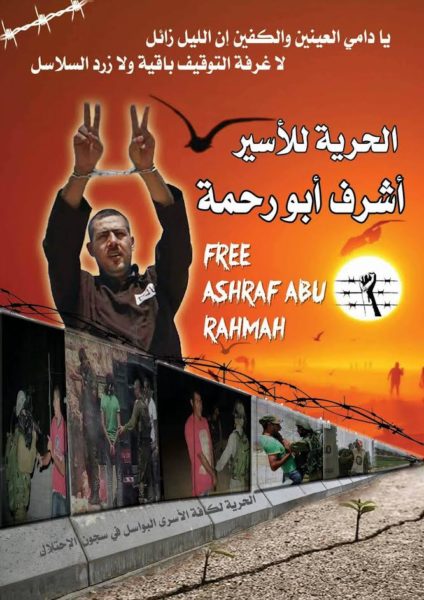 Two other activists from Bil'in are currently in military jail. Leading Human Rights defender Abdullah Abu Rahmah has been imprisoned since the 19th of November 2017 when over a dozen military Jeeps invaded Bil'in village at 2:30 AM and entered several homes. Abdullah who is accused of "damaging the fence" stated, "the occupation has used many methods including, killing and injuring, raiding our homes in order to stop us from exercising our right to protest and struggle against the occupation. But we will not stop struggling until the occupation is dismantled." 16 year old Ahmad Abu Rahmah of Bil'in, who was also arrested in the raid, was accused of throwing a stone.
Update, December 13, 2017: Abdul Khaliq Iyad Bernat, Hamza Ghazi Al Khatib, and Malik Yassin were arrested today in Bil'n, and Ahmed Adeeb Abu Rahma was arrested yesterday. All four are in their final year of high school. They will join Abdullah, Ashraf, and Ahmad Abu Rahmah in military prison.
Update December 14, 2017 :  Abdullah Abu Rahma was released from military prison on bail a fine and conditions. Abdul Khaliq Iyad Bernat, Hamza Ghazi Al Khatib, Malik Yassin, Ahmed Adeeb Abu Rahma, Ahmad Mohammad Abu Rahma and Ashraf Abu Rahma all from Bil'in remain imprisoned.