5th April 2017 | International Solidarity Movement, al-Khalil team | Hebron, occupied Palestine
Just days after Palestinians commemorated Land Day, a day which marks the struggle against the Israeli government's expropriation of Palestinian land, farmers of Wadi Qana endured another mass uprooting and theft of their trees.
Speaking from his home in the Salfit district village of Deir Istiya, Palestinian activist Rezeq Abu Nasser cited the frustrating chronology, "This is the third time they took my trees.  They stole them in 2013 and 2015 as well."  He then handed ISM volunteers the Arabic/Hebrew notice that he found posted on a fence he erected at a cost of over 1,000 NIS to protect his trees.  Abu Nasser's fence was also dismantled and seized along with 25 of his trees.
The notice received by four Palestinian farmers demands that they uproot their own trees or face arrest and/or fines to cover the cost of Israeli occupation forces uprooting the trees for them.  Soon after, 135 trees were uprooted and stolen during the small hours of morning after several bulldozers entered the valley, hauled large stones into the road to block the entryway and rammed through part of a 40 meter stone wall to access the trees.
Citing environmental justifications for these aggressive acts of theft, an Israeli government spokesperson for the Coordinator of Government Activities in the Territory was quoted as saying that the trees were uprooted due to their "damaging the natural view and value of the nature resort."  Claiming the act to be one of protection of the view of a lush valley from the sight of trees is even more absurd, given that the Israeli forces left a partially demolished stone wall and broken tree limbs scattered atop a small field of holes where the trees once took root.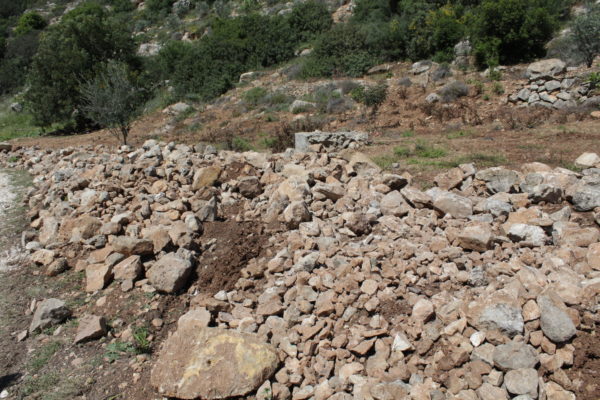 While speaking to the Mayor of Deir Istiya, his office produced copies of the issued warrants for the threatened trees and the generations old British land deeds affirming the farmers' rights to their ancestral land. The Mayor of Deir Istiya described arriving at the Wadi Qana immediately after being alerted to the uprootings in progress, only to find the road blockage Israeli forces left to keep farmers and residents from defending their land.  As for the stone wall, he claimed,"This is a new experience for us that they demolished the stones."
The farmers who lost their trees, tantamount to their livelihood, plan to continue their struggle against these incursions by furthering their cases with the local municipality. As for Abu Nasser, "I'm going to replant them again."