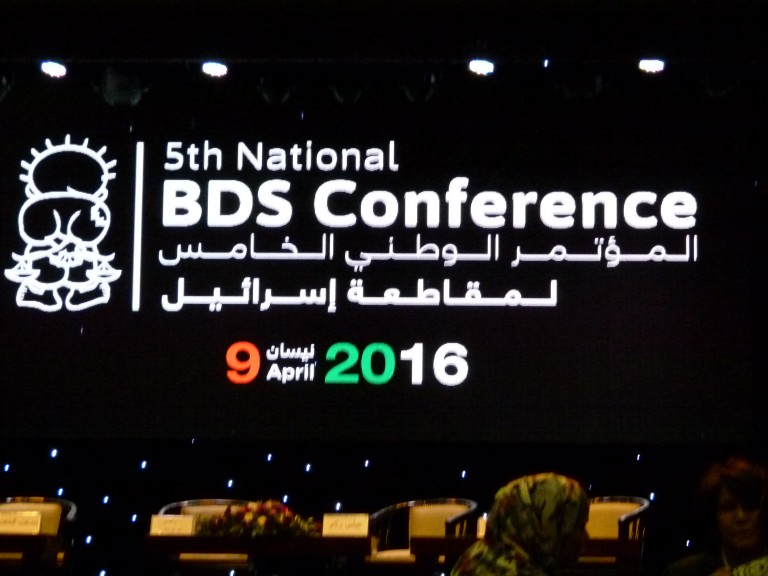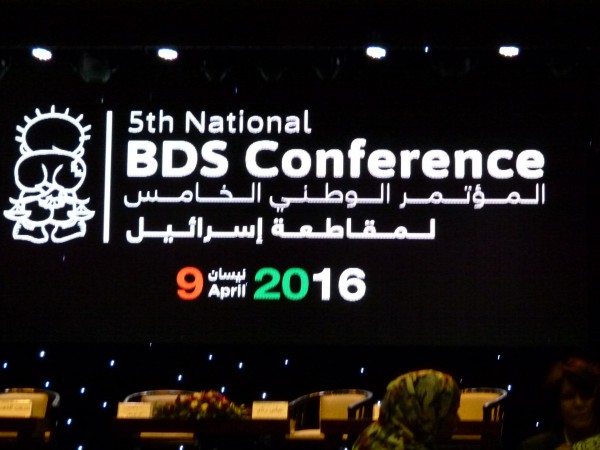 9th of April 2016 | International Solidarity Movement, Ramallah team | West Bank, occupied Palestine
Held on the 68th anniversary of the Deir-Yassin massacre, the fifth annual BDS (Boycott, Divestment, Sanction) Conference took place in Ramallah. The event featured a keynote address from Ahmed Kathrada – an icon of the South African Anti-Apartheid movement and former political prisoner. The conference was taking place in the tenth year of non-violent resistance by the BDS movement.
The day was extremely well attended, in spite of recent statements by Israeli Intelligence Minister Israel Katz, that euphemistically encouraged assassination attempts against BDS Activists by calling for: "civil targeted killings." This aggressive attitude was demonstrated in Israel's attempts to deny and/or obstruct travel to the conference for Palestinians living inside the 1948 borders of Israel and from the West Bank in general. This resulted in coaches of attendees from Jerusalem being delayed and some being denied access.
Mr. Kathrada's keynote address concerned the mirroring of aspects of the struggle against Apartheid in South Africa and the current struggle by Palestinians against the illegal Israeli occupation: "[The Palestinian experience] is similar to the experience of black South Africans under Apartheid. However, in some ways the violence of Israel's occupation is even worse than that which South Africans had to contend with."
Mr. Kathrada went on to describe his 26 years and 3 months in prison, 18 years of which were spent on Robben Island. He drew an audible response of sadness and disbelief when comparing his own experience and that of Palestinians, as he observed that he was, "convinced that Palestinian political prisoners under Israel's Apartheid policies have it worse."
In addition to the keynote speaker, other speakers at the event were split between between those linking BDS to the "Globalised Nonviolent Struggle for Justice and Rights" and speakers on "Spreading the BDS anti-Normalisation Culture Among Palestinian Communities in the Homeland and Exile".
Notably at the conference, Dr. Wassel Abu-Yousef, speaking on behalf of the PLO Executive Committee said: "the PLO has taken into consideration the importance of having a relationship with the BDS movement at all levels." This demonstrates a committment in the wider Palestinian political community to the policy of non-violent resistance as espoused by the BDS movement.
This peaceful commitment stands in contrast, however, to the arguments put forward at the anti-BDS conference in Jerusalem last month, where various pro-Zionist figures put forward their agenda against BDS. That conference included Public Security Minister Gilad Erdan inexplicably linking BDS to jihadism and Islamic terrorism.
Speeches on the day in Ramallah, however, (both live and pre-recorded), far from calling for jihad, were secular, peaceful and informative in their detailing indivdual groups committment to BDS.
Representatives of a wide variety of groups spoke, demonstrating their community's links to the BDS movement. These included speakers from BDS in Jerusalem and Gaza (the latter prevented from travelling by Israeli blockade and delivering a report via pre-recorded message); those representing Palestinian women's groups – Women's Campaign for Boycotting Israeli Products and the General Union of Palestinian Women – political prisoners, media, schools, trade unions and refugees. As well as local campaigners, international groups provided updates on their BDS campaigns from the USA (specifically in relation to progressive American Jews) South America, Egypt and the EU.
The conference concluded with an address by Omar Barghouti – co-founder of BDS – and a conference-wide discussion on the future of the movement.
For more information on BDS and to learn how you can get involved visit: https://bdsmovement.net