23th March 2015 | International Solidarity Movement, Ramallah Team | Ni'lin, Occupied Palestine
On the 20th of March, during Ni'lin's weekly Friday demonstration, Israeli occupation forces attacked protestors with about 20 rounds of tear gas canisters shot with the 'venom' tear gas launcher mounted on a military jeep (which can launch up to thirty rounds of tear gas before needing to be reloaded), countless rubber-coated steel bullets and approximately one hundred rounds of live ammunition. One Israeli activist was shot in the ankle and one Palestinian boy was injured in the leg, both with rubber-coated steel bullets. Many protestors suffered from tear gas inhalation.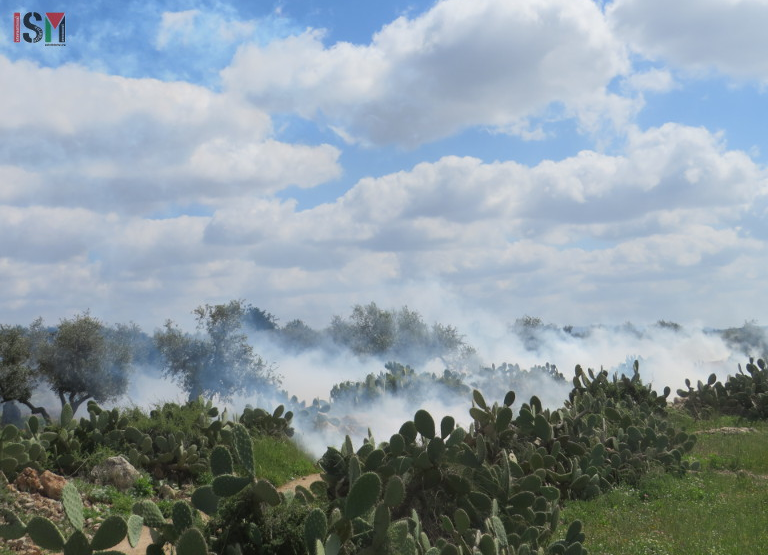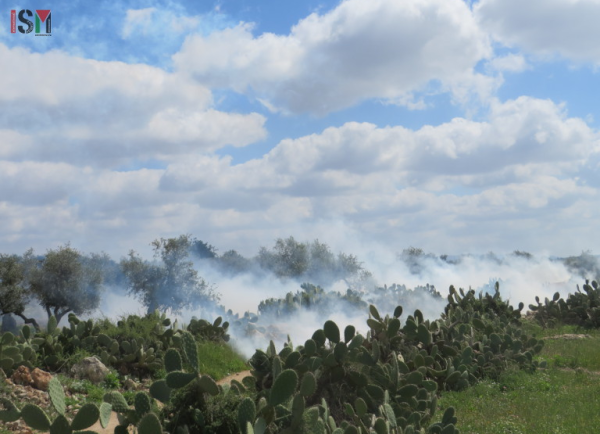 Even before the demonstration started, Israeli occupation forces shot several rounds of tear gas grenades boys in the fields close to the village's school. An Israeli activist documenting this aggression was shot in the ankle with a rubber-coated steel bullet and was treated at the scene by paramedics.
After the noon prayer, the protestors started their peaceful march in the direction of the apartheid wall and the illegal settlement of Hashmon'im, but were violently stopped by Israeli forces – initially with four rounds of tear gas shot with the venom, each round simultaneously shooting 10 tear gas canisters. In order to stop protestors from regathering and continuing their march after the thick clouds of tear gas had disappeared, Israeli forces used more rounds of the venom alongside rubber-coated steel bullets, pushing the demonstration back towards the village. One round of the venom was fired in close proximity to the village's residential area. Most of the protestors suffered from tear gas inhalation. A 15-year old boy was shot with a close-range rubber-coated steel bullet that penetrated his leg. He was evacuated to a hospital, treated and released the same evening. The Israeli military continued shooting tear gas grenades towards the village even after the protestors had left.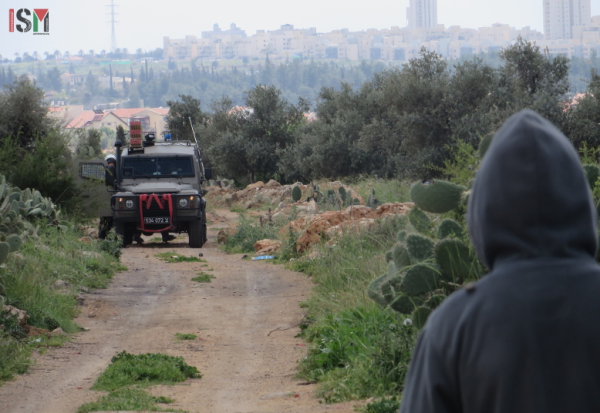 At the same time a group of Palestinian youth approached the fence that forms part of the Apartheid barrier separating Ni'lin from lands belonging to the village, close to the illegal Hashmon'im settlement built on Ni'lin's lands. Without being noticed by the Israeli forces at first, the group cut a big hole into the fence, before they were attacked by countless rounds of live ammunition shot at them by the Israeli military. The shooting of tear gas grenades and live ammunition at the group of youngsters continued until they returned to the village.