9th December 2014 | International Solidarity Movement, Nablus team | Kufr Qaddum, Occupied Palestine
Bashar, a journalist from Palestine TV, was shot in the left leg at Kufr Qaddum on Friday the 5th of December 2014.
The weekly demonstration aims to highlight the issue of the road that has been closed to Kafr Qaddum and demands for it to be reopened. The road is closed to Palestinians but connects several illegal Israeli settlements nearby. The road was once the Palestinians' main route to the villages of Jit and Sarra, and to the city of Nablus. Residents of Kafr Qaddum and nearby villages must now use a 14 kilometer detour on badly paved roads through olive groves. This proves especially problematic in emergency situations when ambulances are trying to get patients to Nablus hospital. Kafr Qaddum villagers state that several people have died because of the longer ambulance trip.
Bashar has been going to the Kafr Qaddum demonstrations since they began four years ago. This particular one was a special demonstration in solidarity with Patrick, an Italian activist who was shot in the chest with a .22 caliber bullet the Friday before. The demonstration began peacefully with people holding Italian and Palestinian flags. A skunk water truck, a renowned demonstration repression technique, sprayed the people who were peacefully holding flags right at the beginning of the protest. Within ten minutes, Bashar had been shot in his left leg by an Israeli sniper.
The bullet used to shoot Bashar was an expanding bullet, often called a "dum-dum". International law has declared their use illegal in war because they are so destructive. Bashar was shot by a sniper with a weapon that is only supposed to be used when soldiers are at mortal risk and skunk water, tear gas, rubber bullets, rubber coated steel bullets, and other nonlethal weapons have all proved ineffective. This is supposed to be the last weapon soldiers use before they shoot to kill with M16s. Witnesses say that Bashar was filming as he usually did when he was shot. He was no threat to the soldiers at all. Witnesses say that there were no people in front or behind him throwing stones.
Bashar was taken by ambulance to Nablus hospital. The X-ray showed that the dum-dum bullet did as it was designed to, breaking into many pieces when it entered his leg.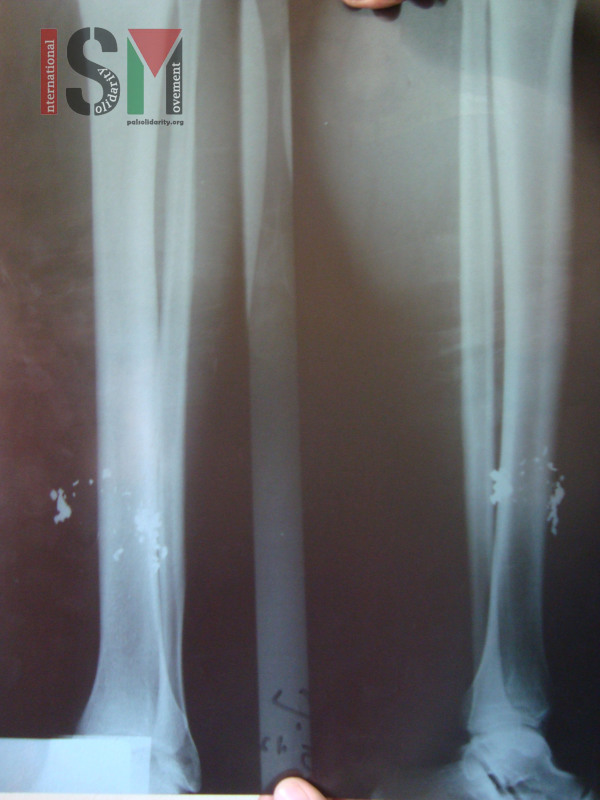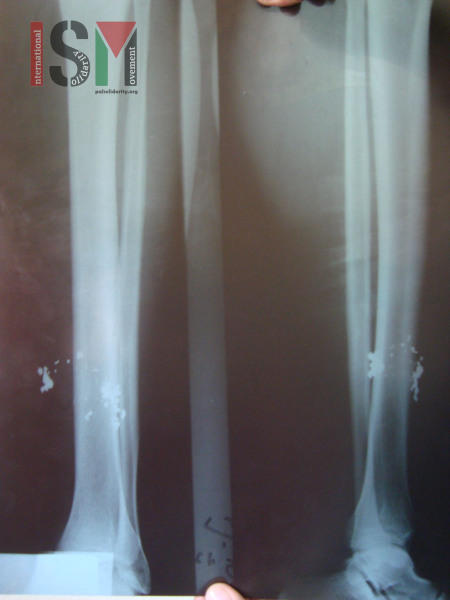 Bashar had an operation on the 6th of December, the day after he was shot, to take out most of the bullet fragments.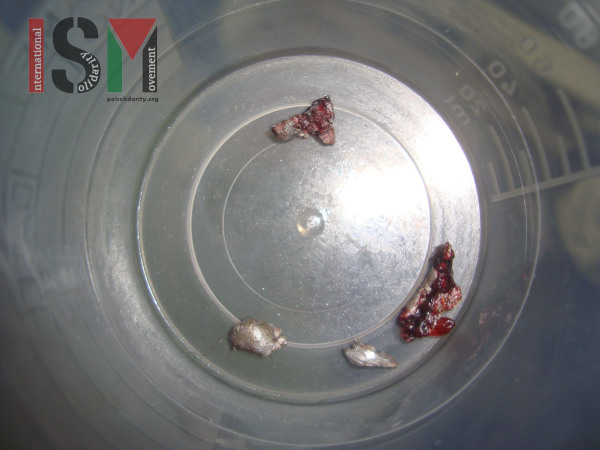 Doctors have decided to leavein some pieces for the time being because they are very close to veins and would be dangerous to remove. Bashar will be bed bound for two weeks until the decision is made, but his condition remains stable.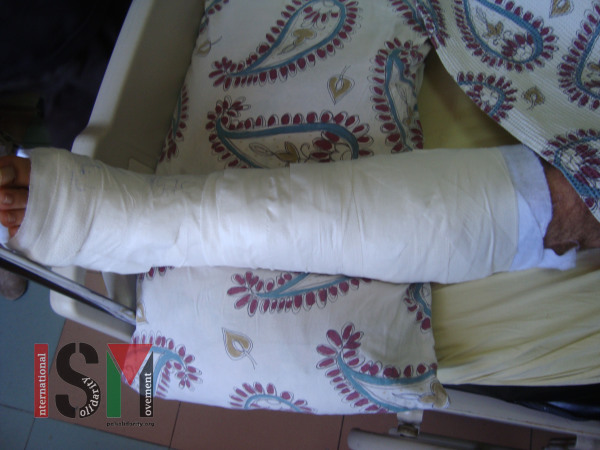 Within one week at Kufr Qaddum, three people were shot with lethal, live ammunition—two with .22 caliber bullets and one with a dum-dum. One was a journalist, another an international peace activist. None of them were any threat to the soldiers. So why, then, were they shot at? To create fear for all the people who are in solidarity with the Palestinians and who want to tell the world the story of what is happening here? To physically stop peaceful resistance using the most extreme repression techniques?
It will not work. Patrick and many other international, Palestinian and Israeli activists will continue to nonviolently resist the confiscation of their lands in Kufr Qaddum each week. Bashar will continue to report their stories to the world. The unnecessary use of violent repression techniques will only continue to delegitimize the illegal occupation of the Palestinian people.