29th November 2014 | International Solidarity Movement, Khalil team | Hebron, Occupied Palestine
Today in al-Khalil (Hebron) families gathered to stage a peaceful demonstration protesting the continuing closure of the Shuhada checkpoint. The rally consisted of approximately 50 Palestinians, of all ages. The protesters met outside of the closed checkpoint at 1 pm, armed with nothing but Palestinian flags.
The protest moved towards the checkpoint, as soon as it reached the checkpoint´s outer barrier the soldiers from the other side threw a tear gas grenade and two stun grenades at the dense group of protesters.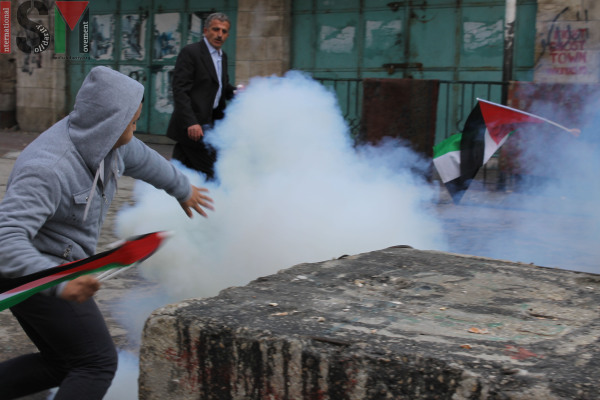 The protesters dispersed immediately, elderly men had to be assisted by other protesters due to tear gas inhalation. Several young Palestinian boys then threw stones at the checkpoint, but were stopped by other protesters.
Video by Christian Peacemaker Teams – Palestine.
The dispersed demonstrators stayed in the area near the checkpoint after the first aggression by the Israeli occupation forces, but several more tear gas grenades and stun grenades forced the protesters to leave the area completely. Young Palestinian boys then began to throw stones again and clashes broke out. The soldiers responded to the stones with excessive amounts of tear gas and stun grenades. Much of the tear gas was either deployed or drifted into the busy business streets in the Bab a-Zawiya area, effecting hundreds of Palestinians.
An ISM activist present stated afterwards, "They [the Israeli occupation forces] rarely use tear gas at clashes on Fridays where the street is empty. Today they used a lot of gas, even though the streets were full with people minding their own business."
The clashes continued until 4 pm this afternoon. Many shopkeepers decided to close their shops to protect their goods from the tear gas.
Shuhada checkpoint has been closed for the past 8 days as part of a policy of collective punishment directed at the Palestinians in surrounding neighbourhoods after the checkpoint was burnt during clashes last Friday. The checkpoint connects Bab a-Zawiya, a neighbourhood in H1 (supposedly under full Palestinian authority control) to Tel Rumeida, an H2 residential area under full Israeli military civil and security control. For the past days, Israeli soldiers have been denying passage through the checkpoint to Palestinians including children, elderly people and teachers from nearby schools who needed special permission to pass.