28th April 2013 | International Solidarity Movement, Hebron, Occupied Palestine

By Team Khalil
UPDATE 2nd May 09.30 Full video of child arrests now available from Youth Against Settlements. Swedish activist Gustav is resisting deportation to highlight the issue of child arrests in Hebron which have seriously escalated in recent months.
UPDATE 29th April 20.00 Gustav, the arrested Swedish activist is currently being held in Givon immigration prison, having had his visa revoked by the Israeli authorities. He was beaten during his arrest and hit with a gun. Soldiers conducted two mock executions by pointing guns at his head, loading them and pretending to press the trigger. He was blindfolded and kept inside the military base in Hebron, where he could hear the crying of the arrested children next to him. He is now awaiting deportation back to Sweden by the Israeli authorities, for peacefully objecting to the arrest of two Palestinian children.
UPDATE 28th April 19.30 The two Heikel brothers were released around 18.30. Ahmed (aged 12) has had his fingerprints taken by the police and his younger brother Mouawieh (aged 11) was kicked in the stomach by an Israeli soldier.
UPDATE 28th April 18.30: The Swedish activist has now been transferred to Jerusalem. He is facing possible deportation by the Israeli authorities for trying to non-violently intervene in the wrongful arrest of two Palestinian children.
_______________________________________________________________

28th April 14.00:Israeli military today arrested Ahmed Abu Heikel, aged 12, and his brother Mouawieh, aged 11, in Hebron after they were attacked by a settler child from the illegal settlement of Beit Hadassah. One Swedish activist was also arrested after intervening in the arrests of the children.
At around 1pm Palestinian children were walking home from Qortoba school when they were attacked by the child of extremist settlers living in the centre of Hebron, who was accompanied by his two older brothers. The youngest settler boy started throwing sticks, beating Ahmed and hurling insults at him. As soon as Ahmed defended himself against the beatings, the settler children immediately called for soldiers at nearby checkpoints who came running. Eyewitnesses state that the Palestinian children were not violent. The settler children pointed out Ahmed and Mouawieh as well as their classmate Bilal Said, who were violently grabbed and pushed against a wall by soldiers.
A crowd of about 50 people quickly gathered, mostly Palestinian neighbours and classmates as well as international activists, journalists and settlers. The crowd, and especially the headmistress of Qortoba school, Noora Zayer, who was walking with the boys and witnessed the attack, insisted that the arrest was unacceptable. Bystanders and international activists managed to de-arrest Bilal, who then ran away. However Ahmed and Mouawieh were arrested; Ahmed is apparently being charged with assaulting the Israeli soldier who was called to the scene by the settler children and grabbed the Palestinian rather than the settler child.
A non-violent Swedish activist who intervened peacefully on behalf of the children has also been arrested and is being charged with assaulting a soldier. The two children and the Swedish activist were taken away separately in military jeeps. The Swedish activist is currently being held in Givat Havot settlement near Hebron city, whilst Ahmed and Mouawieh are being held in interrogation centres.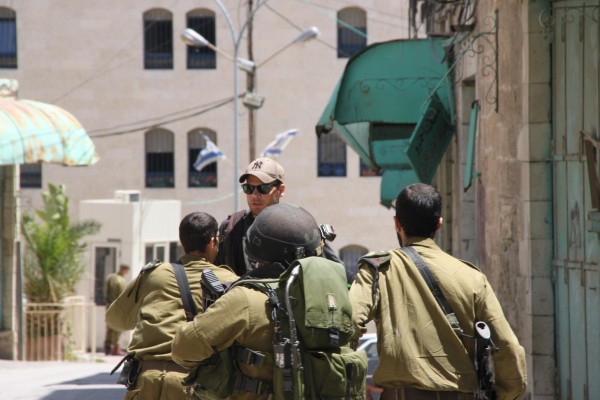 The Israeli soldiers took no action against the settler children who had instigated the attack. The police summoned the youngest settler child who had attacked Ahmed and spoke to him in the presence of his parents for about half a minute, after which he was allowed to go back home without any repercussions. Israeli children living in illegal settlements across the West Bank are subject to civilian law, meaning they are not criminally liable when they are under the age of 14, whereas military law is applied to Palestinian children, who are deemed by the Israeli authorities not to be minors if they are over 12.
This is the latest in an escalating series of arrests of children by the Israeli military in recent months. Christian Peacemakers Team Hebron have compiled a report of these child arrests, which includes 27 children attacked and arrested outside of their school. The report is available here.
Video by Youth Against Settlements