06 February 2013 | International Solidarity Movement, Occupied Palestine
Three Palestinians are still being held in detention following last Saturday´s Al-Manatir protest camp in Burin. The three of them are suspected of participating in a march without permission as well as throwing stones.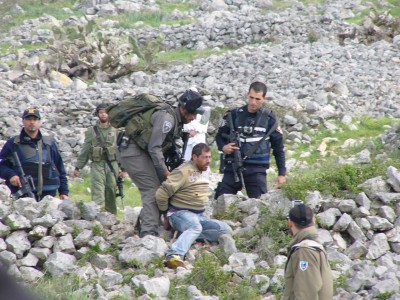 The two adults, Wahid Qadoos and Ashraf Abu Rahma, are also facing potentially an extra charge of assaulting soldiers. Dhia Audhh, the other defendant is a minor from Tammun aged just 17 years old.
Yesterday (5/2/12) the Israeli authorities were pursuing a prosecution, against all three suspects. Today as they arrived in court the military prosecution chose an unusual change of tact. They presented secret files to the military judge explaining why The need five days in order to complete the investigation. According to the military Judge this will include looking into violence from the Israeli settlers that  attacked the Palestinians residents of Hai Al-Manatir.
This seems to be as a direct result of attention of the media  and human rights groups in the trial.
Although the trial is being delayed so an investigation can be made into the settlers and soldiers violent attacks, the price of the delay is being paid by the three detainees who remain inside Israeli Jails. All three detainees were assaulted by soldiers. Young Diaa was assaulted by settlers, who also egged the soldiers on to "kill him" as they beat him. The military judge didn't find Diaa's final high school exams to be a good enough reason to release him or that release to house arrest on bail would suffice for any of the detainees.
The Military Judge ordered them to be held untill the next hearing in their case on  Sunday.