By Team Khalil
18 February 2013 | International Solidarity Movement, Hebron, Occupied Palestine
Six Solidarity Hunger Strikers in Hebron.
Six people in Hebron go on hunger strike in support of Ayman Ismail Sharawna who has been on hunger strike in prison for 235 days.
These include Ayman's mother, Zohra, and three brothers, Jihad, Abed al Rahman and Ismail Shawarna. Joining the family members are Nahil Abu Eisha and Etaf Masalmeh. They are all on an open ended hunger strike to publicise the unjust treatment of Ayman and the other Palestinian prisoners held in Israeli jails. A tent has been erected in the centre of Hebron, near Al Manara, as a focal point for the campaign in the city.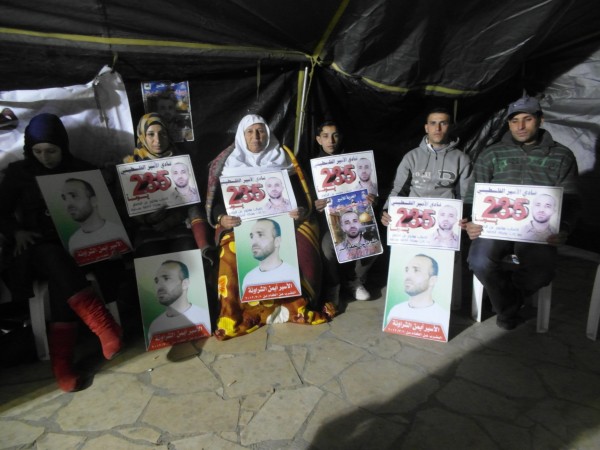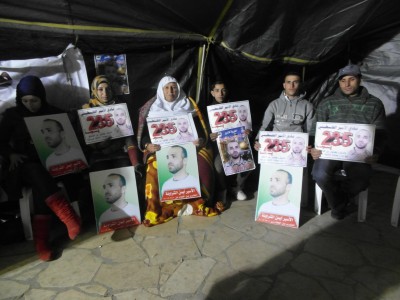 Ayman Ismail Shawarna 38, and a father of nine children, from Deir Samet, Dura, near Hebron went on hunger strike on 1-7-2012 to protest his continued illegal detention in an Israeli prison. Ayman has been on hunger strike for 235 days and his condition is critical. Ayman was released from prison in the Hamas-Israeli prisoner swap in October 2011. He was re-arrested by the Israeli authorities on 31-1-2012 in a breach of the deal and held in administrative detention without charge ever since.
Nahil Abu Eisha, a teacher at Cortoba school in Tel Rumeida, Hebron, was arrested and jailed by a military court for two years when she was twelve years old. She was released after one day when forced to pay a fine of 2,000 Jordanian dinars, about 10,500 shekels.
Etaf Masalmeh from Dura has a brother who has been in an Israeli prison for thirteen years.
Abed al Rahmen Sharawna, one of the six solidarity hunger strikers, said "His family saw him (Ayman Sharawna) two months ago and since then has not been allowed to see him." Abed explained "They want to show the world what is happening too the prisoners, that he is not alone and they have the same feeling as him in prison." Abed demanded the Israeli authorities give him his belongings as he is sleeping on the floor with no change of clothes or a blanket. Ayman cannot walk and does not have a wheelchair. The solidarity hunger strikers hope the Israeli authorities will do something but fear they will do nothing for Ayman. Abed said "We will try to do something for him. We are on hunger strike untill we get our demands."