23 February 2013 | International Solidarity Movement, Megiddo Prison, Apartheid Israel

Arafat Shalish Shahin Jaradat was just martyred in a special section for the Shin Bet in one of the occupation's interrogation centres. Arafat was born on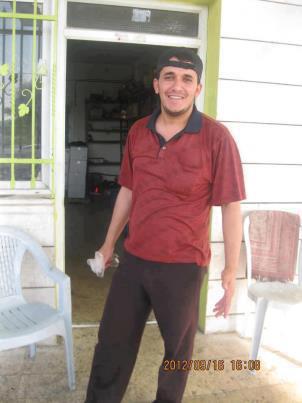 14  January 1983 and had just turned 30 years-old and lived in Sa'eer, a village near Hebron. He was married and father to a four year-old daughter, Yara, and a two year-old son, Muhammad. Arafat and his wife Dalal were expecting their third child in June. Arafat was also in his first year at al-Quds Open University.
Arafat was arrested on 18 February this year for allegedly throwing a stone at an armed Israeli soldier near the illegal Kiryat Arba settlement near al-Khalil during November's bombing of Gaza and was held in al-Jalameh Prison for four days before being transferred to Megiddo Prison, near Haifa in Israel. When he was arrested, he did not suffer from any diseases or health conditions, according to family members. A lawyer from Addameer, a Palestinian human rights group, also reported that generally he did not complain from any pain except slightly in his back.
Arafat's widow, Dalal Ayayda, said that an Israeli intelligence officer brought him back to his home minutes after being arrested and told him to bid farewell to his children. "For that reason I was worried. My husband was detained several times before, but this time the intelligence officer talked in a bizarre way", she said indicating a degree of premeditation to her husband's murder.
Arafat's lawyer, Kameel Sabbagh, who works for the Palestinian prisoners ministry, was present at Arafat's last hearing on Thursday. He said, "When I sat next to him he told me that he had serious pains in his back and other parts of his body because he was being beaten up and hanged for many long hours while he was being investigated… When Jaradat heard that the judge postponed his hearing [for 12 days] he seemed extremely afraid and asked me if he was going to spend the time left in the cell. I replied to him that he was still in the investigation period and this is possible and that as a lawyer I couldn't do anything about his whereabouts at this time". Sabbagh, in a media interview, added that Arafat's psychological state was precarious and that he had informed the judge that his client had been tortured, including by being forced to sit for long hours in stress positions with his hands shackled behind his back. The judge ordered that Arafat should be examined by the prison doctor, but "this didn't happen" Sabbagh maintains.
In the context of Ashraf Abu Dra' being subjected to medical negligence during his detention and dying in a coma on 21 January shortly after his release, a rising tide of violently-repressed street protests in solidarity with prisoners and four detainees on high-profile hungerstrike, Palestinian Authority officials on Saturday demanded an international investigation into the death after the Israeli prison authority claimed it was "probably" due to a cardiac arrest. An autopsy performed at the Israeli National Institute of Forensic Medicine, this Sunday, was conducted by the institute's chief pathologist, Yehuda Hiss, in the presence of Saber Aloul, the PA's chief pathologist and the head of the Israeli health ministry's medical administration, Professor Arnon Afek. Shortly afterwards, the Israeli health ministry, stated that no external signs of violence were found on the body, aside from those those that "could be testimony to resuscitation efforts".
This was in reference to what Issa Qaraqe, PA minister of detainee affairs said at a news conference in Ramallah, was "information [that] so far is shocking and painful. The evidence corroborates our suspicion that Mr. Jaradat died as a result of torture, especially since the autopsy clearly proved that the victim's heart was healthy, which disproves the initial alleged account presented by occupation authorities that he died of a heart attack". The minister said Arafat had sustained injuries and severe bruising in the upper right back area and severe bruises of sharp circular shape in the right chest area.  That the autopsy revealed evidence of severe torture and on the muscle of the upper left shoulder, parallel to the spine in the lower neck area and evidence of severe torture under the skin and inside the muscle of the right side of the chest. His second and third ribs in the right side of the chest were broken, Qaraqe said, and he also had injuries in the middle of the muscle in the right hand. Qaraqe's deputy, Ziyad Au Ain, urged any doctors, including Israeli ones, in doubt that Arafat was tortured to death, to view his body themselves. Qaddura Fares, president of the Palestinian Prisoners Society, added that the examination revealed seven injuries to the inside the lower lip, bruises on his face and blood on his nose.
The already on-going protests intensified on this Sunday as news of Arafat's death quickly spread. Demonstrations against Israeli occupation forces have occurred in Bethlehem, Budrus, Betunia, Jenin, al-Khalil, Kfar Kusra, Nabi Saleh, Kfar Qaddum, al-Ram, Turmusaya and al-Quds, plus Huwara and Jalameh checkpoints as well as the Gaza Strip, today. These were suppressed by the Israeli military and police's array of sophisticated weaponry, including live rounds with two shot. In addition, Ayshel, Ramoun and Nafha prisons saw at least 800 go on a one day hungerstrike.
In other news about the hungerstrikers: Ayman Ismail Sharawna (38) from the village of Deir Samet, has now been transferred to an isolation block in Be'er Sheva Prison having refused food since 1 July 2012 to protest his illegal re-arrest, but as Addameer reported, "He suspended his hunger strike several times, because Israel promised they would review his case." The Palestinian Prisoner Club reports that Ayman has completely lost his right kidney, half of his left kidney and sight in his left eye. In addition, he also lost a great deal of weight and his health is rapidly deteriorating. He has been transferred from one prison to another and put in  solitary confinement several times to break his steadfastness.
By Addameer's count, more than 202 detainees died or were killed in Israeli prisons since 1967; dozens of detainees also died after they were released due to diseases they encountered in prison or due to complications resulting from extreme torture and bad conditions in prisons. Today, the Israeli prison system holds close to 4,600 Palestinians on a range of charges, of which 159 are being held without charges or having a trial in so-called administrative detention.