27 January 2013 | International Solidarity Movement, Madama, Occupied Palestine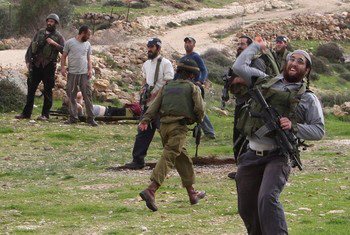 A month after unprovoked settler and army attacks, the victim of severe violence Mamun Nasser remains in Israeli prison. The arrest of yet another member of the Nasser family, Amir Nasser, shows Israeli army's continued harassment in Madama.
On December 18th the notorious security guard charged with the protection of the illegal settlement of Yizhar, Jacob, attacked Mamun Nasser while he was tending to his flock of sheep in a hill outside the settlement. Mamun was handcuffed and beaten in front of his entire family, who desperately tried to intervene.
The Israeli army arrived on the scene, who responded by firing live ammunition on the Nasser family and others who tried to help, quickly ending their attempt to stop the vicious assault.  One round passed through Mamun's sisters clothing narrowly missing her while another one hit his brother, Amir, in the leg. His mother told us "They wanted to kill him [Amir]. I heard the officer giving that order. He was lucky that he was only shot in his leg." Severely beaten, Mamun was then arrested and taken away by the Israeli military into custody. One month later he remains detained in Majdou Prison.
On January 23rd at 4 pm, the Israeli army followed up the harassment by raiding the Nasser family home in Madama, arresting Mamun's brother Amir who was still recovering from the gunshot wound he received only a month prior. This is another episode in the continued harassment of villagers surrounding Yizhar which is described as the West Bank's most violent settlement by the United Nations.
Video taken by settlers during the incident on December 18th