28 December 2012 | International Solidarity Movement, Urif and Madama, Occupied Palestine
This week the settlers and soldiers based at the Yizhar settlement have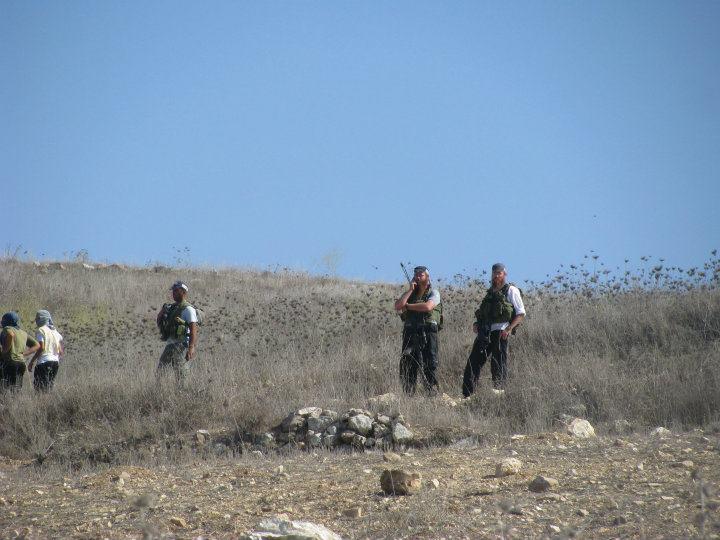 been attacking the village of Urif on a daily basis, firing tear gas on school children, attacking farmers working their land, and imposing unannounced curfews on the village. The villagers of Urif said that a security guard named Jacob from Yizhar was one of those who provoked these events. Jacob is the tall thin security guard pictured here on the right. Jacob has also shot and killed an Urif villager some years ago and was involved in another violent assault in May this year, when he tied and shot  a person in the back.  Last week in the village of Madama, a farmer by the name of Ma'mun was tending to his sheep when he was attacked; witnesses again blame a Yizhar security guard they know by the name of Jacob.
Ma'mun was severely beaten and strangled by this security guard. Ma'mun's face was swollen and full of blood and he was last seen in Madama foaming from the mouth. The harrowing account of the attack, which included injuries to Ma'mun's family when they tried to assist him, can be read here:
https://palsolidarity.org/2012/12/madama-attack-harrowing-account-from-the-nassar-family/
During the attack two other people were injured when soldiers and settlers attacked the villagers that arrived at the scene of the aggression. One was hospitalized with gunshot wounds in his leg, while the other was hit on the side of the head with a tear gas canister. Ma'mun was taken by the settlers then handed over to the Israeli Police who arrested him.
Ma'mun has now been indicted with three "offences": assaulting a soldier, assaulting a settler, and an indictment from two months ago which was the same assault of both a soldier and a settler. All together, the prosecution has 13 witnesses against Ma'mun. Ma'mun's lawyer has therefore asked for some time to study the case. The next hearing is scheduled for January 17, but this is still subject to change.
Ma'mun's physical state is much better. Doctors have been preparing a medical record as he was assaulted so seriously.
Ma'mun has also recently been allowed to take medication that he needed for an existing condition. The defence is relying on police complaints made my Ma'mun for assaults against him in the past, and they also have some hope in discrediting the witnesses who are all from the settlement, or Israeli Military.
Now that Ma'mun is recovering physically from the attack, concerns have now shifted to the heavy indictments he faces and the clearly biased witnesses who will give evidence against him.
The video below shows settlers burning trees in the village of Urif.