by Team Khalil
25 December 2012 | International Solidarity Movement, West Bank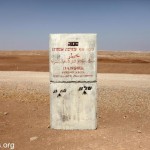 The residents of two villages in the Israeli firing zone 918 in the South Hebron Hills experienced a fearful Christmas day as the Israeli soldiers and a tank conducted firing exercises in close proximity to their homes.
From late afternoon on 25 December the villagers were shocked as an Israeli tank fired several practice shots near the villages of Mirkez and Jinba. Shortly afterwards around forty soldiers from the Israeli army fired blanks as they simulated a skirmish. The soldiers staged an attack on a hillside which lasted for around an hour, during which the sound of gunfire echoed around the hillside barely fifty metres away from Mirkez. One Jinba resident remarked that the Israeli army had not held training exercises this close to the villages in twelve years and the villagers shut their doors in fear of another night raid.
The soldiers stayed in the area into the early hours of the morning and sporadic bursts of fire could be seen and heard throughout the night. The Israeli tank fired two rounds late in the evening, the booming noise of the tank fire could be heard throughout the firing zone causing distress to the nearby communities.
Two international activists walking between the villages during the night were stopped by a soldier and were only allowed to pass once he realised they were not Palestinian.
Local and international groups working with the affected communities have started a campaign to raise awareness of the routine infringement of the villagers' human rights and the harassment they receive from soldiers and settlers alike. Details and a petition to the Israeli government can be found here.
Backgound
The area was declared a 'firing zone' for military training in the 1970s. The villagers, many of which have lived in the area for generations, live with the constant threat of eviction and home demolition as well sporadic water shortages and violence from the illegal Israeli settlers surrounding the area.
Earlier this month Israeli soldiers entered Jinba during a nighttime excursion and forced a terrified family to leave their home and stand in the cold for two hours while they destroyed the door to another cave in the village for no apparent reason.
Also in early December Israeli forces demolished the mosque in al Mufaqara which they claim was built illegally despite the fact that the settlements in the West Bank, all of which are illegal under international law, remain untouched.
Team Khalil is a group of volunteers of International Solidarity Movement based in Hebron (al Khalil)