by Lydia
2 April 2012 | International Solidarity Movement, West Bank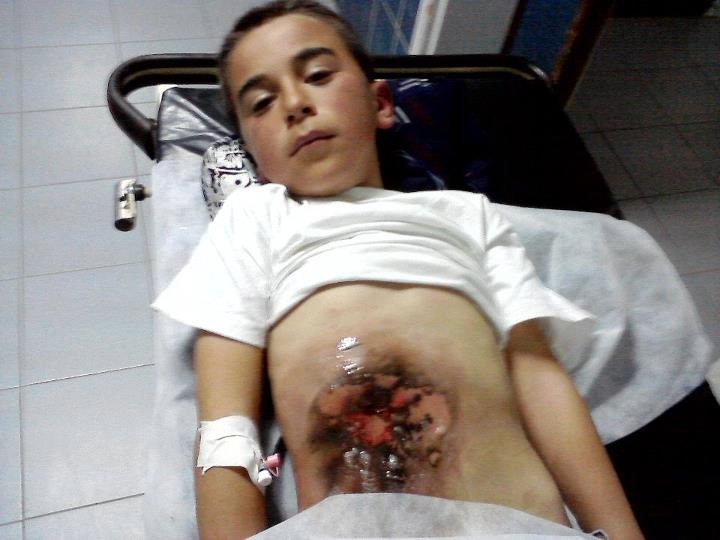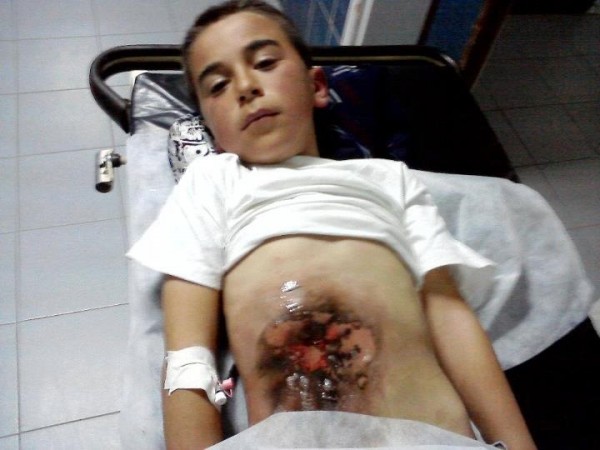 Yemams father did not have time to respond to his son before the bomb exploded. Ripping through three layers of clothes and even more layers of skin, his father had to watch the tragedy unfold before his eyes. Yemam Mohammad Fatah Azam is just eight years old. He was enjoying a Friday afternoon with his father in the olive groves.
Situated between the illegal Israeli settlements of Shilo, Eli, and Suvat Rachel, Qaryut is not new to military and settler violence. Yamam's story however is the first incident of its kind and has shaken the community. As floods of school children come to visit Yamam in his home, it is clear that all the parents are aware that the bomb could have been in their loved one's hands. The children show they are upset with a handshake and sit next to Yamam in silence.
Bashar, a member of the Popular Commitee explains that the planting of un-exploded ordinance (UXO)  "..is an act to intimidate us from going to our land."
Efforts by violent Zionist settlers have been well underway to intimidate farmers from visiting their land, and recently the village has joined the popular resistance with a Friday demonstration in protest of the closure of their road by Israeli military. The road runs through the land in which many farmers reside. One farmer explained, "It brings us much comfort to have cars passing through the road, we know if anything was to happen a car would stop and support us."
As Yamam lays in bed, not able to move much due to the wound constantly re-opening, causing pain beyond comprehension, four more bombs lay on the land near by. This case has reached The United Nations group, OCHA, who has reported this in their "Protection of Civilians Weekly Report, 21-27 March 2012." The Palestinian Authority is also addressing the issue as well. Both have been informed of the bombs which still reside on the land of the farmers, but have not been able to make the area safe. Due to the olive groves being in Area C, the Palestinian Authority has no permission to enter the land.
Lydia is a volunteer with International Solidarity Movement (name has been changed).