by Rosa Schiano
11 April 2012 | il Blog di Oliva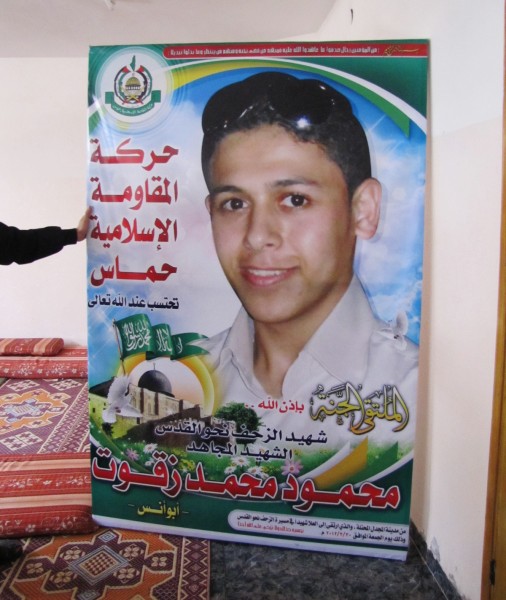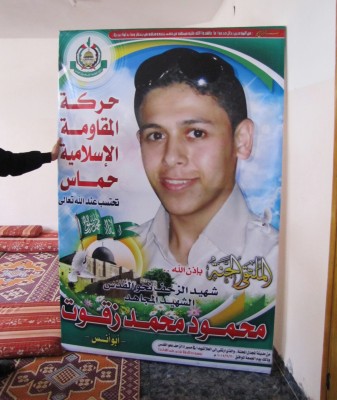 On Friday 30th March, during the "Land Day," Gaza joined the Global March in order to remember the confiscation of Palestinian lands by Israel which were protested against on the 30th March 1976. 6 Palestinians were killed and hundreds were injured.
In Gaza this event had the color of blood and the sound of Israeli bullets.
We all met in Beit Hanoun to head to the Erez border. Many people could not continue the march because of the blockade created by the Israeli police.
However, while we were there we learned that many people were able to reach the border, and we also knew about the injured. And so, following alternative ways, bypassing the blockade of the police, we joined them.
What we saw next was at the verge of madness.
A group of young people demonstrated by singing, some were there just sitting or standing, others were trying to remove a barbed wire fence, some were throwing stones  of protest, stones that could have never reached the Israeli soldiers and surely not cross the border.
Nonetheless, the Israeli soldiers did not hesitate. They targeted. They fired. Precisely.
The injured were many. It was chaos. Guys riding motorbikes were bringing the injured quickly towards the ambulances and then they were coming back.
The soldiers fired at the arms, at the legs.
I saw grimaces of pain; I heard the screams of pain.
Also Mahmoud Zaqout, 19 years old, was there with us. They also shot Mahmoud, but he was hit straight in the chest.
Mahmoud would have turned 20 on April 19.
After that terrible day we went to visit his family.
He was a calm boy, a lovely boy, his father Mohammed told us, "Mahmoud was 19 and he was still a child. Mahmoud graduated and he worked in his shop near home.
He was very much beloved by the children, and by his brothers and sisters. He always played with them. Mahmoud was the tenth of 12 children.
His parents told us that Mahmoud was preparing himself for this demonstration since two weeks prior. He really wished to do something for the Palestinian cause. Four days earlier he had taken a picture of himself and he asked his family to use that picture in case he was killed.
Mahmoud's family thought that he was joking, that he said that for fun.
They did not think that this could happen.
Maybe Mahmoud felt that this could happen. Or simply he knew that whoever goes to the border to demonstrate risks his life under the fire of Israeli bullets.
On Friday, after the prayer, Mahmoud went to the demonstration.
His mother told us that before leaving he told her: "If I am late, keep lunch ready for me."
These were his last words to his mother.
Mahmoud was trying to put a flag at the gate when he was shot by an Israeli bullet. He was transported to Kamal Odwan Hospital. But because he was badly injured, the medical staff decided to carry him to the Shifa hospital, but he died before arriving.
One of his brothers showed us the flag still stained with his blood.
We asked Mohammed from whom his son had inherited this sense of struggle and resistance. The father told us that his family is from Askilon. Mahmoud is not the first martyr of the family. One of his uncles was killed during the shelling of Gaza (Cast Lead Operation).
Mohammed told us that they feel they must fight for their own rights, for their freedom and for justice.
All his family believes that one day the Palestinian people will go back to their land.
One of his brother told us that Mahmoud was anxiously waiting for the following Tuesday, 3rd April, in order to watch the football match of Barcelona, because Mahmoud was a fan of the team.
They would have watched the football match together.
Mahmoud was aware of the possibility of getting killed.  He was ready for that, for the love of his land. But at the same time Mahmoud was also thinking about his future and, as all the youth of his age, he was also thinking to watch the football match of his football team together with his family and friends.
"The loss of Mahmoud is a disaster for the whole family," his father told us. "But now Mahmoud is with God and we hope he will be ok."
"In the West Bank more than 300 people were injured. There Israeli soldiers used rubber coated  bullets. In Gaza there are F-16 and the soldiers use real bullets, in Gaza the Israeli soldiers shoot to kill the Palestinian people", concluded Mohammed.
Finally, I asked the relatives of Mahmoud if they feel like sending a message to the international community.
Mohammed, the father, said, "I want to know what Mahmoud has done in order to be killed by Israel. We thank you for your solidarity, and we thank the internationals who are here to support the Palestinians."
Nedal, one of Mahmoud's brothers said, "If my brother had been a soldier, and if he had killed an Israeli boy, what would have been the response of the entire world? This question is above all for the governments of the other countries. Me too.. I would like to know what Mahmoud has done to be killed."
I asked Haiaa, Mahmoud's mother, how she feels. With her eyes still in disbelief she replied, "I feel like a fire is in my heart. Everyday I go to his room, every day I approach his bed, and I start to cry."
The mother accompanied me into her son's room. She showed me his computer, she touched the screen. She showed me a small cupboard with some objects. Toothpaste, a toothbrush, a comb, and some hair gel. She took the toothpaste, she handed it to me and she put it back where it was before.
She showed me Mahmoud's jeans hanging on a hook, she hugged them. His jeans are still there at their place. Mahmoud's mother keeps his room as he left it, as if he was still alive, as if he will come back.
I felt out of breath in front of her pain.
I hugged her, a hug full of feelings of helplessness, aware that my embrace could never relieve her pain, aware that nothing will ever bring her son back.
On Tuesday Barcelona won. Mahmoud could not sit on the armchair at home watching the match, but maybe from up there he would have smiled. Now he will wait for the greatest victory, to see the rights of the Palestinian people.
Rosa Schiano is a volunteer with International Solidarity Movement.