by Rana H.
9 April 2012 | International Solidarity Movement, West Bank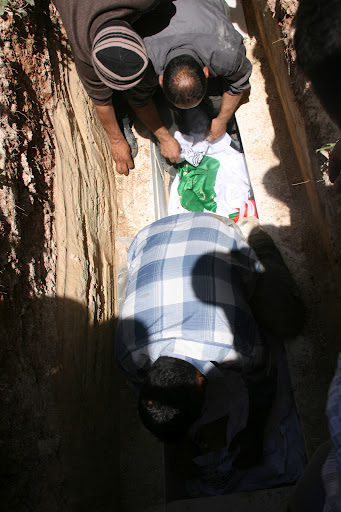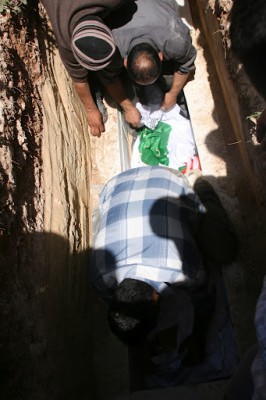 Israeli settlers attacked and chased a group of Palestinian farmers last Thursday, causing a tractor to flip over during the chase, causing the death of the Palestinian driver.
On Thursday, April 5th, armed settlers from the illegal Israeli colony of Itamar attacked a group of Palestinians en-masse. In haste and in fear for his life, twenty-eight year old Fadi Abu Zeitoun's tractor tipped and crushed him as he fled from the pursuing settlers.
The villagers who own olive groves near Itamar rarely get "permission" from the Israeli District Coordination Office to access their own land. During the harvest season, they are permitted a few days, but in the spring when the land needs to be tended they have more difficulty acquiring permission. During this spring harvest, the villages of Hawarta, Yanoun, Aqraba, and Beita were told they had only four hours to  access their land. The area to be tended is approximately 1000 dunums so the villagers collected forty tractors to work as much land as possible in the shortest possible time. Israeli activists from the movement Peace Now, and a group of international activists were present in solidarity. Prime Minister Salam Fayad joined them to make a statement re-affirming their right to utilize the stolen land that they were standing upon.
During the Prime-minister's visit, Israeli authorities were positioned nearby and prevented the settlers from passing. However, shortly after Fayad left the area, Israeli soldiers permitted a mob of settlers to converge upon the Palestinian farmers tending to their land. They began by throwing stones, causing the group to separate and begin descending the hill. The settlers then proceeded to fire M-16 assault rifles in the direction of the unarmed farmers before releasing dogs. In the ensuing chaos,  and as Fadi desperately attempted to escape, his tractor flipped over and fell on him, mortally wounding the young man.
Palestinians witnessing the incident ran back towards the scene to offer assistance. The settlers promptly dispersed as they rushed him down the hill to the road, unfortunately he was already dead.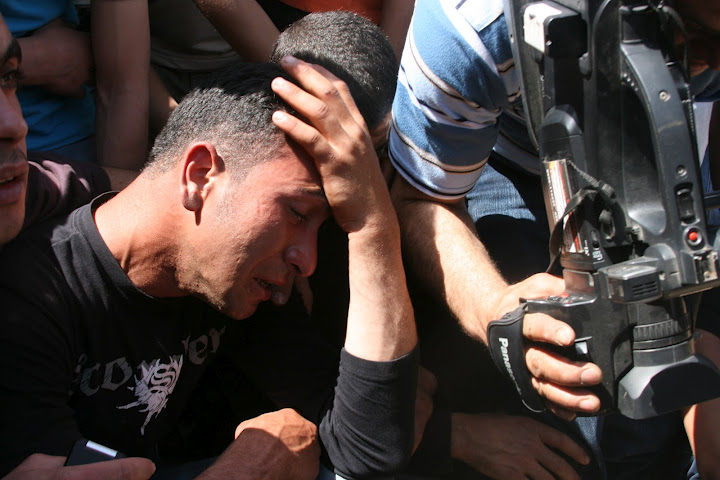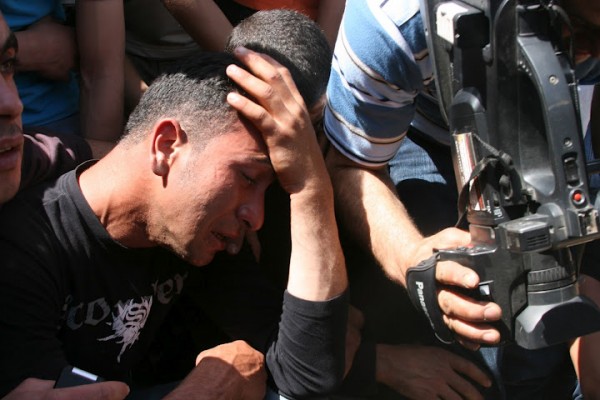 Fadi is of the village of Beita . With a population of only 12,000, this death resonates among all the residents. As Fadi's father-in-law, Isam Bani Shams says, "This is not our first martyr nor our last, we have been in this situation for sixty-four years. Our village has lost some seventy martyrs."
On the same date, twenty-four years ago, two men from the village of Beita were also murdered by settlers from Itamar.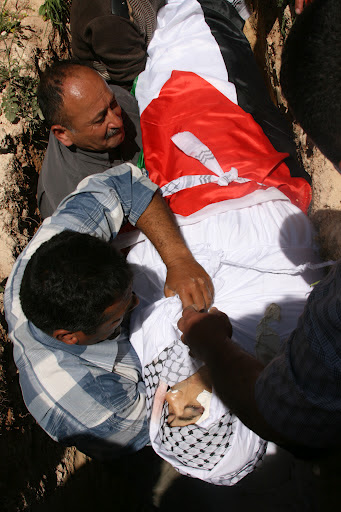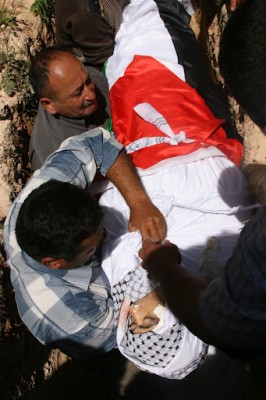 In the gathering following the funeral, Fadi's father, Sleman Abu Zeitoun, sat with his head down. Beside him sat three other men who have had a son murdered by Israeli soldiers or settlers.
Fadi was newly married to nineteen year-old Fida' Bani Shams who is left widowed and six months pregnant. Her brother was killed at the age of sixteen by Israeli soldiers during the second intifada, and as her father says, "She has lost a brother and a husband so what can I say of her emotions? She is in grief. She is exhausted." Fida' sat slouched in a corner of the room, her eyes closed and blankets covering her feet.
Fadi's sister has had a nervous breakdown since the death of her brother. She does not recognize  her husband or her daughters. Their mother, Mona Fihmeh says, "in terms of how I feel, I have patience, but my back has been broken from the burden." Mona spent last night praying over her feverish body, and today she sent her daughter to the hospital. Her husband was on the way back from a funeral in Jordan when the accident occurred. He returned to Beita to find that his son had been killed.
Throughout the funeral, political talk arose about the various results of Israeli occupation and apartheid on Palestine. At first, the unemployment rate among Palestinians does not seem relevant to the death of Fadi Abu Zeitoun, but one soon realizes that Israel's apartheid policies are to blame for both the impunity with which settlers are treated, and the numerous other negative consequences on livelihood.
The United Nations Office for the Coordination of Humanitarian Affairs (OCHA) in the occupied Palestinian territory  reported that over 90% of complaints regarding settler violence filed by Palestinians to the Israeli police in recent years have been closed without indictment. OCHA's report on settler violence notes that "the root cause of the settler violence phenomenon is Israel's decades-long policy of illegally facilitating the settling of its citizens inside occupied Palestinian territory. This activity has resulted in the progressive takeover of Palestinian land, resources and transportation routes and has created two separate systems of rights and privileges, favouring Israeli citizens at the expense of the over 2.5 million Palestinian residents of the West Bank. Recent official efforts to retroactively legalize settler takeover of privately-owned Palestinian land actively promotes a culture of impunity that contributes to continued violence."
Declared one of the men at the funeral, "every time Israel builds a colony, we will build another Palestinian town; every time they erect a building, we will build a new building."
"Our steadfastness protects our land," another proclaims.
 Rana H. is a volunteer with International Solidarity Movement.