25 February 2012 | Palestine Information Center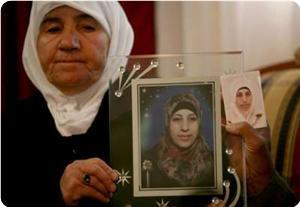 Detained young woman Hana'a Shalabi has entered her tenth day of hunger strike protesting her administrative detention despite being released late last year in the prisoners' exchange deal between Hamas and Israel.
Attallah Abulsabh, the minister of prisoners in the Haneyya government, said that Hana'a, 28, is the first freed captive to be re-arrested and sentenced.
The minister said that Hana'a is following the path of Khader Adnan who went on hunger strike for 66 days before the Israeli occupation authority finally submitted and agreed to end his administrative detention.
He said that the health condition of Hana'a was deteriorating and that the Israeli Hasharon prison administration had moved her to solitary confinement and threatened to transfer her to the ward of Jewish homicide convicts in Ramle jail if she continued in her hunger strike.
Abulsabh asked the Egyptian intelligence chief Murad Muwafi to personally intervene to put an end to Israel's re-arrest of freed prisoners in the exchange deal and to improve the incarceration conditions of all Palestinian prisoners since the deal was brokered by the Egyptian intelligence apparatus.
The 67-year-old parents of Hana'a have announced they would go on hunger strike until they receive information on the status of their child.
Hana'a spent two and a half years in administrative custody before her release in the exchange deal.