27 December 2011 | Besieged Gaza, Occupied Palestine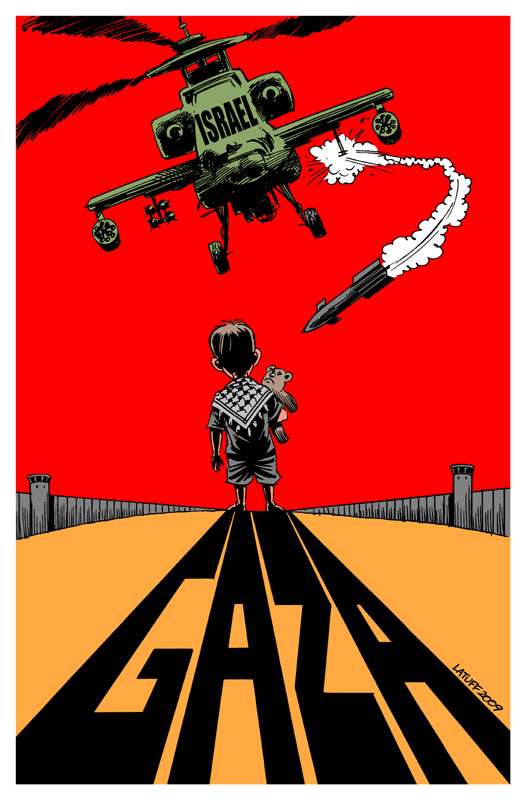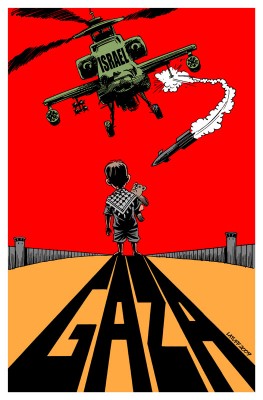 We, Palestinians of Gaza, 3 years on from the 22-day long massacre in Israel's operation 'Cast Lead', are calling on international civil society to make 2012 the year when solidarity with us in Palestine captures the spark of the revolutions around the Arab world and never looks back. On this anniversary we demand an international liberation movement that eventually leads to just that, liberation for us Palestinians from 63 years of brutal military occupation and ethnic cleansing that pours shame on any organisation or government claiming to endorse universal human rights.
We will never forget the hurt of 3 years ago, the criminal onslaught that we lived through, the blood of over 1400 murdered men, women and hundreds of children running through the streets of Gaza, between the rubble, soaking our beds and etched on our minds. We will never forget. For they are still dead, and thousands more are still maimed.[1]
We will never forget the last 63 years during which our land, homes, olive groves, lemon trees and cherished way of life was taken away from us, while Israeli soldiers held our fathers' faces in the sands, imprisoned them, or shot them in front of us. We will not forget the sickening cowardice of the international community that has allowed and enabled this ethnic cleansing of our people, subjecting us to Israel's racist Zionist vision that defines us, the indigenous people of Palestine, as the undesired 'ethnic group' for the region.
The US continues to 'reward' Israel with 6 billion dollars of tax-payers money while the EU increases its trade and diplomatic relations. For the Israeli apartheid regime this translates as the green light to unleash the 4th most powerful military on us to 'do its worst' against our civilian population, of which over half in Gaza are children and over 2 thirds are UN registered refugees.
In recent years, civil society and solidarity movements throughout the world have grown in their support for us, especially in 2011. As the world wakes up, the prospect of life without Israeli occupation and its system of race-based subjugation becomes more than a dream. We demand simply, human rights that anyone else would expect. This year, the first taste of liberation in the Western controlled Arab world arrived in Tunisia, Egypt and Libya. Many of those who took to the streets moved beyond their fear of being killed or tortured, facing up to the despotic, Western-backed regimes in the name of freedom for their families, communities and compatriots.
We will never forget them too, as we have lived much of our lives beyond this fear, our resilience against Israeli apartheid growing as the solidarity movements around the world grow. No longer under the boot of Western governments we urge the Arab street to do what the Israeli Apartheid Regime fears the most, to unite and build against them, the state that has violated more United Nations resolutions than any other. The siege breaking attempts into Gaza must continue, the second Free Gaza Flotilla exposed again the brutal and merciless edge of Israel's hermetic siege.
In Europe and America the Boycott, Divestment and Sanction (BDS)[2] movement is reaching the mainstream. Huge victories have included campaigns against waste and transport infrastructure firm Veolia who build transport routes on Israeli occupied lands.[3] Inspired and supported by Nobel Prize winner and anti apartheid hero Archbishop Desmond Tutu, the University of Johannesburg ended its collaboration with Ben Gurion University in Israel.[4] Other University campuses are pursuing boycott campaigns and major European Trade Unions have broken ties with Israeli Trade Unions. And a growing number of conscientious artists and singers are refusing to perform in Israel.
 All over Israeli internet sites and in government policy are attempts to deter the growing BDS movement,[5] an international strategy that succeeded against a similarly well-armed, Western affiliated apartheid regime in South Africa.
The effect worldwide of the Gaza massacres 3 years ago was a catalyst for a huge rise in worldwide solidarity and action in support of Palestine, just as the South African Sharpeville massacre was for South African blacks in 1960.
Our call this year will accept no compromise. We call upon all Palestine solidarity groups and all international civil society organizations to demand:
An end to the siege that has been imposed on the Palestinian people in the West Bank and Gaza Strip as a result of their exercise of democratic choice.
The protection of civilian lives and property, as stipulated in International Humanitarian Law and International Human Rights Law such as The Fourth Geneva Convention.
The immediate release of all political prisoners.
That Palestinian refugees in the Gaza Strip be immediately provided with financial and material support to cope with the immense hardship that they are experiencing
An end to occupation, Apartheid and other war crimes with immediate reparations and compensation for all destruction carried out by the Israeli Occupation Forces in Gaza.
For us, the sacrifices for resisting have often meant imprisonment, torture, collective punishment and death. Outside, the risks are lower, but with great possibility. We call on you to Boycott Divest and Sanction, join the many International Trade Unions, Universities, Supermarkets and artists and writers who refuse to entertain Apartheid Israel. Speak out for Palestine, for Gaza, and crucially ACT. There has never been a time when mobilizations are gaining such support. 1994 was the year of South Africa when Apartheid was thrown into the dustbin of history; with your support we can make 2012 the year of free Palestine!
THE TIME IS NOW!
List of signatories:
General Union for Public Services Workers
General Union for Health Services Workers
University Teachers' Association
Palestinian Congregation for Lawyers
General Union for Petrochemical and Gas Workers
General Union for Agricultural Workers
Union of Women's Work Committees
Union of Synergies—Women Unit
The One Democratic State Group
Arab Cultural Forum
Palestinian Students' Campaign for the Academic Boycott of Israel
Association of Al-Quds Bank for Culture and Info
Palestine Sailing Federation
Palestinian Association for Fishing and Maritime
Palestinian Women Committees
Progressive Students' Union
Medical Relief Society
The General Society for Rehabilitation
General Union of Palestinian Women
Afaq Jadeeda Cultural Centre for Women and Children
Deir Al-Balah Cultural Centre for Women and Children
Maghazi Cultural Centre for Children
Al-Sahel Centre for Women and Youth
Ghassan Kanfani Kindergartens
Rachel Corrie Centre, Rafah
Rafah Olympia City Sisters
Al Awda Centre, Rafah
Al Awda Hospital, Jabaliya Camp
Ajyal Association, Gaza
General Union of Palestinian Syndicates
Al Karmel Centre, Nuseirat
Local Initiative, Beit Hanoun
Union of Health Work Committees
Red Crescent Society Gaza Strip
Beit Lahiya Cultural Centre
Al Awda Centre, Rafah
References
[1] http://www.dci-pal.org/english/display.cfm?CategoryId=1&DocId=917
[2] http://www.bdsmovement.net/call
[3] http://www.bdsmovement.net/2011/veolia-takes-severe-blow-as-it-fails-to-win-485-million-pound-contract-in-west-london-8559
[4] http://www.telegraph.co.uk/news/worldnews/africaandindianocean/southafrica/8404451/South-African-university-severs-ties-with-Israel.html
[5] http://www.hrw.org/news/2011/07/13/israel-anti-boycott-bill-stifles-expression