by Wahed Rejol
29 November 2011 | International Solidarity Movement, West Bank
Today in the Occupied West Bank, Palestinians and internationals gathered in Nablus to participate in an international day of support for Palestine.
In 1977 the United Nations General Assembly voted to declare November 29 as the The International Day of Solidarity with the Palestinian People.  On that day in 1947 the same body voted to partition Palestine as part of UN resolution 181.  The following year the state of Israel was created.  64 years later Palestinians have not regained their freedom, and refugees have been unable to return to their native land.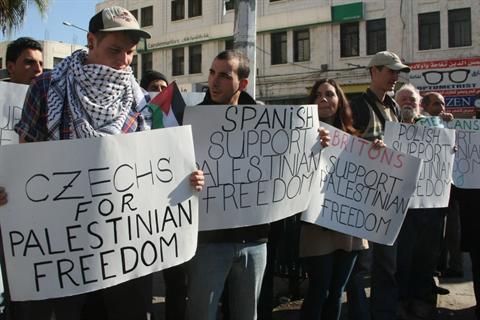 As solidarity actions took place around the world, international activists joined Palestinians in Nablus to commemorate the important day.  Demonstrators held signs, waved flags, and joined Palestinian-led chants of freedom and justice.  The Mayor of Nablus addressed the crowd and encouraged his fellow citizens to remain strong in the face of the decades long occupation.  Solidarity activists from Europe, North America, South America, and Africa were present.  Internationals and Palestinians were encouraged by the event and plan to organize a similar action next year.

Wahed Rejol is an ISM volunteer working in the West Bank (name has been changed).