by Alistair George and Ben Lorber
20 November 2011  | International Solidarity Movement, West Bank
Over 1000 American and International Zionists joined 700 extremist settlers in Hebron this weekend to celebrate the reading of the Torah portion detailing Abraham's biblical purchase of Hebron land, and to assert sovereignty over the Palestinian residents of Hebron.
On Friday, many Zionist visitors camped in tents on Israeli-controlled Shuhada Street. Inebriated from the Shabbat festivities, the visitors harassed local Palestinians throughout the night.
On Saturday, soldiers stationed themselves through the streets of Hebron's Old City, forcing the shutdown of Palestinian shops, while swarms of visitors were treated to an extensive settler-guided tour championing the Jewish roots of Old Hebron. In what was advertised by the Hebron Committee as "the most unforgettable Jewish experience of a lifetime",  throngs of young, mostly American males clapped and chanted 'Am Yisrael Chai' ('life to the people of Israel') and other nationalistic chants, while  Palestinian residents were forced to the sidelines of their own streets and kept there by soldiers. Throughout the day, 7 international activists and 2 Palestinians were arrested.
While a few visitors were respectful to Palestinian shop owners and residents, many were outright hostile. Mohammed Awawdeah owns a small shop in the old city, selling glass bottles filled with intricate colored sand patterns. Some of his bottles were smashed by a passing settler.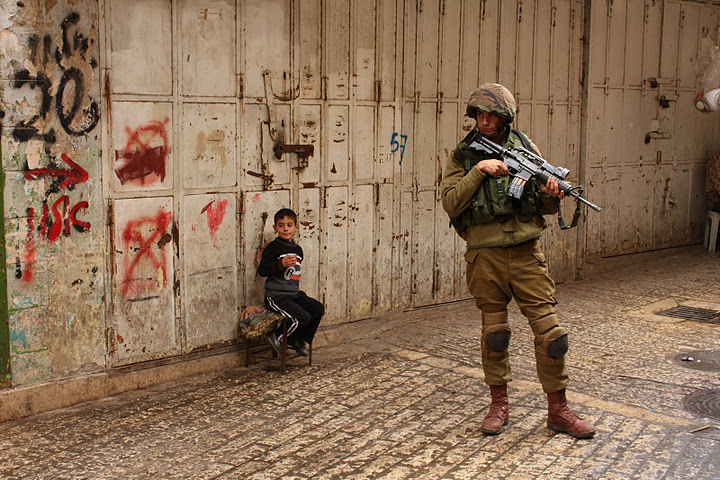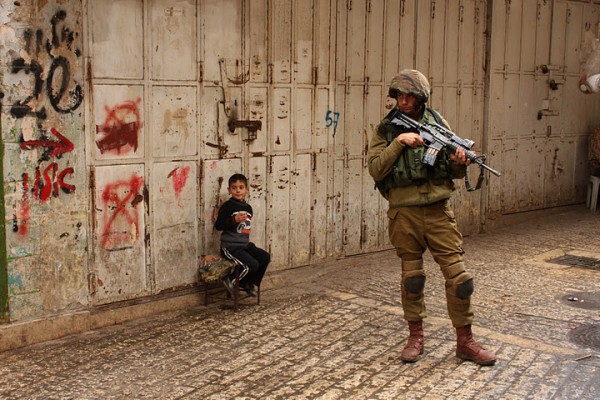 "He came and broke my stuff," Awawdeah says. "I told the police but they are not here for us, they are here for the settlers…I am not even angry for my stuff, I'm angry at the soldiers who let them do this".
Hamday Dwaik decided to close his bakery in the old city, since his shop was targeted by settlers during the event last year. "The settlers don't want me to open. If I open they will throw my products on the ground, no one will buy it".The Israeli police have taken the details of the incident and said that they intend to carry out an investigation.
Laila Slemiah, who works in Women In Hebron, a woman's collective in the old city selling kiffiyehs and embroidery, was determined not to close her shop.
"I know I won't have any business today," she said, "but I have to stay open. I'm not scared of them."
Clashes were also reported between visiting Americans and international activists. One activist relates that "as we were walking, a group of young American Jewish boys got into an argument with us. They became threatening towards us, and one of them had an M16 around his waist. They told us they would break our camera, they told the nearby Palestinian shop owner they would burn down his shop, they told me I would be dead on the floor."
As this event is touted by the Zionist community as a Biblically-ordained 'return to the homeland', an organization called Project Hayei Sarah has been founded in the U.S. and Israel, offering alternative interpretations of Abraham's Biblical relationship to Hebron that challenge the attempted Zionist appropriation of this legend to legitimize territorial conquest.
Seven international observers were detained by the Israeli police over the course of the day. At around 8 am, five international activists were detained after they were observing the checkpoint in Israeli controlled H2 area. They were held at Kiryat Arba police station for 8 hours and were threatened with charges of 'interfering with police work' unless they signed a statement agreeing not to be in the H2 area for a week. Two other international activists were detained at around 2:35pm today after attempting to film settlers passing through the old city; they were taken to Kiryat Arba and held there for around 2 hours. They were released without any further action being taken.
As darkness fell and the rain became harder, the tour ended. Large groups of settlers gathered in Palestinian areas of Tel Rumeida. A rowdy group of around 15 settlers chanted and attempted to intimidate Palestinians outside a shop in Tel Rumeida at around 5pm. The Israeli police were called and the group dispersed shortly afterwards.
Alistair George and Ben Lorber are volunteers with International Solidarity Movement. Ben Lorber also writes for the Alternative Information Center.