by Alistair George
28 October 2011 | International Solidarity Movement, West Bank
The Israeli military violently obstructed a peaceful demonstration against the Israeli separation wall in Al-Ma'sara, near Bethlehem, today.
Around 25 Palestinians and a similar number of international observers marched from the village at 12:20 PM today and attempted to reach olive groves on Palestinian land just outside of Al-Ma'asara in time for this year's olive harvest.  A line of thirteen soldiers, backed by reinforcements in three armoured vehicles, pushed and shoved protesters, including a small Palestinian boy, in order to prevent them from leaving the village.
As demonstrators attempted to walk around the line of soldiers, one officer snatched a Palestinian flag from a protester and then head-butted him.
Mahmoud Alaaelddin, President of Al-Ma'sara local council and member of the Popular Resistance Committee, said "Every Friday we try to go to our land and the soldiers always prevent us from going.  They don't care if there are children at the demonstration; they use more and more violence every Friday."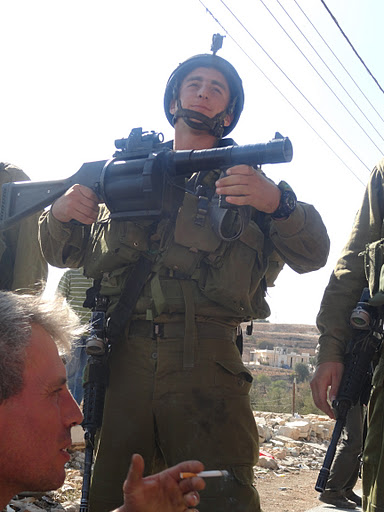 After being prevented from peacefully marching to Palestinian land, protesters chanted, sang and remonstrated with the Israeli military for around 30 minutes.  The protest dispersed at 1:00 PM, with Mahmoud Zawahra, member of Al-Ma'asara's Popular Committee of Resistance, alerting the soldiers of their continued persistence.
"Next Friday we will come with more people and we will fly kites with Palestinian flags.  And for the hundredth time we tell you – you are not welcome here. You are killers and occupying forces," he said.
Around five minutes after today's protest ended, a small group of Palestinian youths threw stones at the military, who responded by firing a tear gas canister, causing billowing gas to enter a house and garden at the edge of Al-Ma'asara.
Demonstrations take place in the village every Friday in protest against the separation wall – illegal under international law – which has been used by the Israeli military to expropriate much of the village's land since 2005.  Work had ceased on the wall near Al-Ma'asara in 2008 after an Israeli court ruling, but it is scheduled to re-commence on 1 January 2011.
If completed, the barrier will expropriate more Palestinian land and will result in the closure of the main road that links Al-Ma'asara to nearby cities in the West Bank.  Al-Ma'sara residents will be forced to take alternative routes, tripling the length of time it takes to drive from the village to Bethlehem or Hebron.
Alaaeldin says that over the past few years Israeli soldiers have come into the village late at night before the Friday's protest; forcing entire families – including children – to stand in the cold, often for 2-3 hours.
According to Alaaeldin, the Israeli military "wants people to be afraid [to protest].  They say 'we will arrest you, we will kill you 'but more people come to the demonstrations and refuse to be scared."
The Israeli military has not carried out such incursions into the village for three months, but Alaaeldin is concerned that they may start again as soldiers have taken advantage of the cold winter nights to harass people in previous years.
Alistair George is an activist with International Solidarity Movement (name has been changed).