28 May 2011 | International Solidarity Movement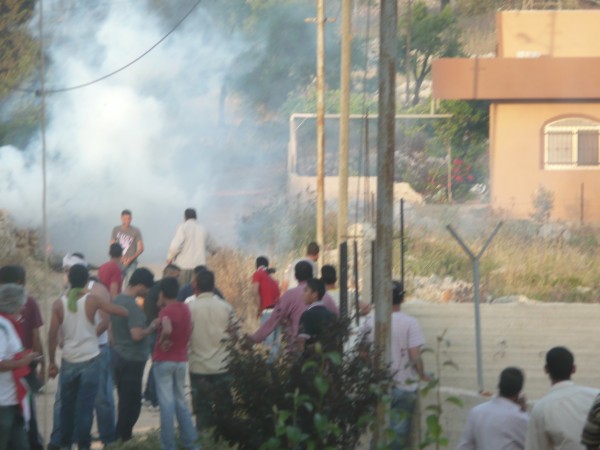 This afternoon three members of the International Solidarity Movement were arrested during a peaceful demonstration in Iraq Burin. The activists from the UK, Denmark and Iceland had joined the villagers in protesting the loss of their land to the illegal Israeli settlement of Bracha, however the demonstration had barely began when the army began firing tear gas at the protesters. After four hours of shooting tear gas the army entered the village and occupied houses. The three activists were taken from the street and detained in a house with other Palestinians for over an hour before being arrested. The activists were released after four hours without charge.
Iraq Burin is a small village 8 km southwest of Nablus. The illegal settlement of Bracha is located approximately one mile southeast of the village, and is situated on around 100 dunams (25 acres) of village land, as well as more land from surrounding villages. In addition to the settlement itself, the land surrounding it is off-limits to the farmers who are prevented from accessing it due to its close proximity to the settlement, leaving them with less land to graze their sheep and harvest from. The villagers of Iraq Burin held weekly demonstrations last year to protest the expansion of Bracha, and their continued inability to access their agricultural land. This began as a reaction to a sharp increase in attacks from residents of the settlement. The attacks were frequently aided by the Israeli military, who would in turn invade the village, firing rounds of tear gas, rubber-coated steel bullets and live ammunition at Palestinian civilians. However the village took the decision to stop the weekly protests when Mohammed Qadous (16) and Asaud Qadous (19) were shot dead by the Israeli military during a demonstration in March 2010. In January this year Oday Maher Hamza Qadous (19) was also shot dead by settlers whilst farming his land.