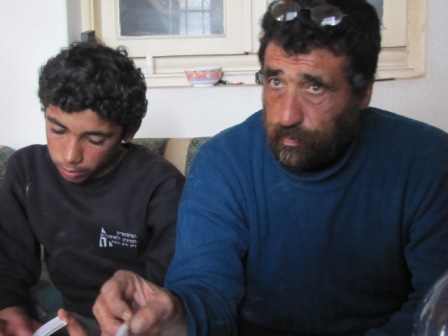 23 March 2011 | International Solidarity Movement, Gaza
Four days. That is the time lapse between the attack on Yasser Nasser Bakr, who was shot in the abdomen by the Israeli Navy, and yesterday's abduction at sea of his father and brother. At 6 am on March 20th, Nasser Bakr and his 15 year old son Alaam set out to fish in a small boat of 6.5 meters length, joined by three other hasaka's. At 9 am a gunboat rapidly approached them and the four boats consequently started making way for Gaza's harbor.
"Our boat is ridiculously slow though, it has a motor of only 8 horsepower. So, while the others managed to escape, we ended up on our own. They got to us and ordered us to stop. I answered that I was going home and continued heading back. Once again they ordered us to stop, but I continued to set sail towards the beach. It was only four days after they shot my son Yasser and I just didn't want to obey them. That's when they opened fire on us, leaving me with no choice but to stop."
The story continues and is almost an exact copy of the stories of the Al-Laham, Al-Hissi and other members of the Bakr family. All of them are fishermen who have been abducted in the past months and whose boats remain confiscated.
Nasser and his son were forced to undress and jump into the water to swim towards the gunboat. Once in Ashdod, policemen asked them why they crossed the border.
"We have a GPS on board and we were only 2.7 nautical mile out!"
By 6 pm, Alaam and his father were brought to Erez, where the Israeli intelligence questioned them again. An aerial photo showed the details of Gaza's port in which they showed a keen interest. "They wanted to know where the entrance is and where the authorities are located. After our evasive answers, they told us they would return our boat in the coming days."
The last statement sounds like an evil joke: of all the hasaka's that the Israeli Navy has confiscated, not a single one has returned to Gaza. The loss does not only affect the Bakr family, but also Mahmoud Abu Awedi, the owner of the boat. He lends his boat to the Bakr family when he is playing the drum at parties.
"When the blockade was at 12 nautical miles, our monthly income was at average 30,000 shekels a month. Now, we earn 300 shekels a month. It doesn't bring in any money, but without fishing, I'd go crazy, the sea and the boats are my life."
Alaam has been silently listening to his father's account of yesterday's events, and like any boy in puberty he claims not to have been afraid of the Israeli Navy. He has good reason to fear them though; on July 5th 2010, when he was just 14 years old, Alaam was shot twice in the abdomen by the Israeli Navy. He shows us the bullet wounds, with a shy boyish smile. "It's healed reasonably well, but I'm less fit. I'm easily exhausted when walking for example and feel pain when I've been too active."