25 December 2010 | Bil'in Village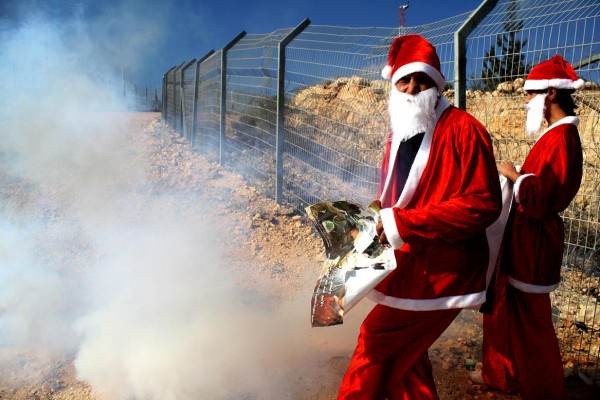 At yesterday's demonstration, a number of Bil'in's citizens as well as a local journalist were wounded, in addition to the dozens of people who suffered choking from inhaling poison gas.
These events come during a week of international solidarity with the Palestinian people as well as the occasion of Christmas. The demonstration, organized by the Popular Committee Against the Wall and settlement of Bil'in, began after Friday prayers from the centre of the village and marched towards the Apartheid Wall where the soldiers were already waiting. Dozens of international activists and Israelis marched alongside the people of Bil'in with a number of protesters dressed in Santa Claus outfits shaking bells and distributing sweets as they marched. Participants chanted slogans calling for national unity and the ending of the occupation, as well as the destruction of the wall. They raised Palestinian flags and banners of the various factions and slogans calling for the liberation and national unity.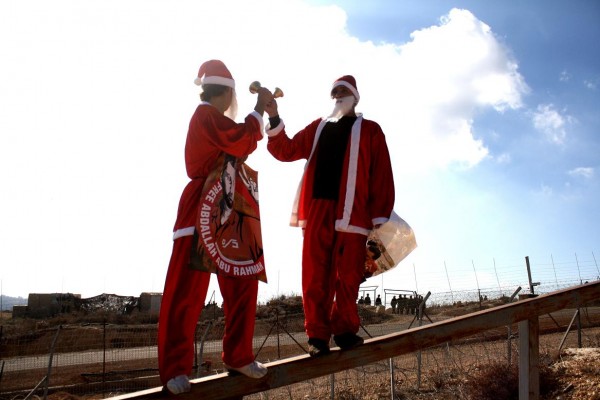 On reaching the wall, the protesters were met with a shower of tear gas, sound bombs and rubber bullets. A villager, Hamde Abu Rahma, was hit several times by tear gas canisters fired at his legs and back, while Tariq al-Khatib KISS was overcome by gas thrown in his face. The soldiers advanced towards the village, creating a bottleneck which trapped dozens of participants who were bombarded with the poison gas. The protesters were forced to retreat to just outside the village where they continued confrontation with the Israeli soldiers for hours.