9 October 2010 | ISM Media
Burin, near Nablus
People from the village of Burin were attacked by 20 settlers, 5 of which had guns. They wanted to make a road leading up to the house of one of the villagers, Bilal Eid. that is on the top of a hill inside the small village of 3500 inhabitants.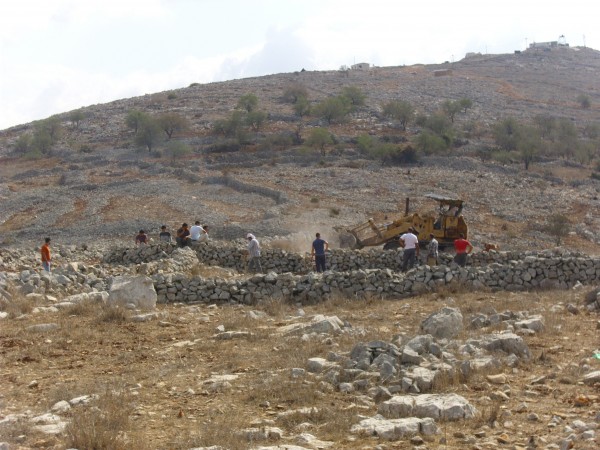 Just as the bulldozer started working, about 20 settlers went down from the illegal settlement of Givat Arozi, shouting and throwing stones at the bulldozer. Five of them were carrying guns.
The villagers called the Israeli DCO (District Coordination Office) to ask them to prevent the violence. Shortly after, one car with representatives from the DCO arrived on the spot together with soldiers.
When they saw the DCO and the soldiers, the settlers went quickly back towards the settlement. While retreating they were throwing stones to a house and destroyed about 12 olive trees by cutting them. When they cut the trees the villagers took photos to show to the DCO representatives, who did not show any interest. However nearby solders could easily have prevented this violence, but did nothing to stop the settlers.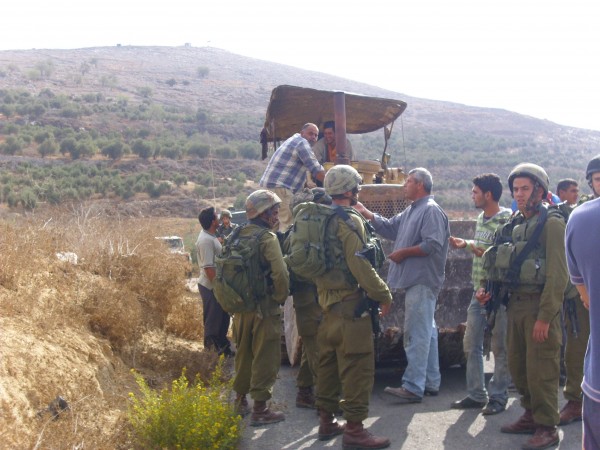 The village of Burin is surrounded by four illegal settlements. The settlers intend to settle in what is left of Burins land, to connect the already existing settlements. The villagers have been suffering from regular settler attacks for many years. The mentioned house that the new road is leading up to had to be emptied five years ago, when settlers attacked it. While the family was still living there, one day about 100 settlers broke into the house, forced them out and stole everything – including the door and windows. The owner of the house now lives with his wife and four children in a small house inside the village, since they live in constant fear of a new attack. The action today was the first step to reclaim their house, by rebuilding and constructing a road leading to their house.