"This tree is blessed for us and our grandfathers and ancestors have taken care of this tree for generations.  I grew up with an olive tree in our back yard and it represents the peaceful life we had always lived on these lands. Now our olive groves are bulldozed and farm workers are shot at so we are here in solidarity with farmers whose lives are made impossible by the Israeli siege and occupation."
This is how much it meant to Mohammed el Massry, a 20 year old student in Al Azhar University to enter a high risk area to help farmers begin the olive harvest and help maintain land that used to be the breadbasket of the Palestinian economy. In what turned out to be a beautiful day's climbing, picking and bagging of black and green olives, Mohammed joined other members of the Beit Hanoun 'Local Initiative' group accompanied by 4 International Solidarity Movement activists to help farmer Abzel Al Baseony begin the Olive harvest 300 metres from the Erez border wall with Israel.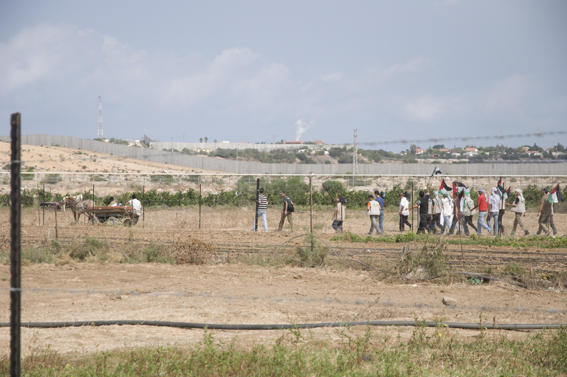 Beginning early on Tuesday morning, farm workers, Palestinian and international activists marched with flags, buckets, step ladders and hessian bags ready for a morning's work picking olives, accompanied by the cameras of Arabic and international media. Around the unilaterally imposed Israeli buffer zone – a 300 metre wide belt of land along the Israeli border, farm workers have been picked off by snipers and shelling as a matter of course, often over a kilometer beyond the designated area. A month ago near to where we were picking the olives Grandfather Ibrahim Abu Sayed, his 17 year-old grandson and friend were mutilated and killed by Israeli tank shelling despite being twice as far from the border as we were.
Khalil Nasir, coordinator of the Local Initiative group sees farmers as the first line of resistance:  "We're here today to offer some support for the farmers who have continued the resistance to the occupation everyday of their lives, not letting go of these lands so near to the Israeli wall. Last month three farm-workers were directly shelled, when all they were doing were tending to their sheep and animals. We thank them for the life they left behind and we want to give farmers along the border whatever support we can."
Shootings of farmers and destruction of their land are not exceptions – the dangers of farming in the bufferzone were comprehensively documented in the recent United Nations and World Food Programme report: "Between the Fence and a Hard Place". It concluded that the violence used to restrict Palestinians from accessing their land covers areas up to 1500m from the border fence, meaning that over 35% of Gaza's most agricultural land is in a high risk area causing severe losses of food production and livelihoods.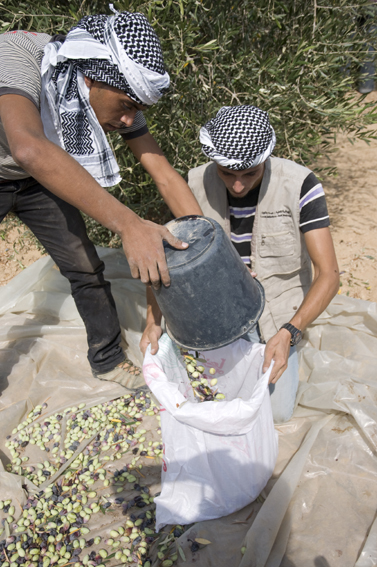 This does not stop farmers and their families from continuing to plant and harvest there, their livelihoods and resistance far too important to prevent them from working their own land.  Nor are the regular demonstrations ceasing despite being confronted by frequent live gunfire and many of the demonstrators were pleased to show direct solidarity by picking the olives.
"We have been shot at near here before on peaceful demonstrations", said 22 year old student Anwar Alaaneen. "I'm here in solidarity with the farmers in Beit Hanoun who are always under threat from shooting and shelling when their land is so close to the Israeli fence. The international community should allow us the right to farm our own land, instead of allowing Israel to continue to commit these crimes." she added.
Unbeknown to the olive pickers, nearby in the North of Gaza in Beit Lahiya a farm worker in the Siafa area 27 year old Zeyad Mohammed Tambora now and then worked for a farmer in Siafa area, had just finished picking strawberries when suddenly with no warning his right foot was hit by a bullet. He was carried back by his 2 cousins from the farmland at about 300 meter from the fence and they escorted him to a waiting car on a donkey cart. Arriving at hospital Tuesday at about 10.00 AM Zeyad then underwent surgery to stop the bleeding. The bones in his foot are smashed and according to doctors he might have problems to walk for the rest of his life and he is not expected to be walking for a few months.
Whether its for strawberry picking, olive picking or wheat gathering, incidents like this happen on a daily basis in this region. Two days before and last week, two more workers were slightly injured by firing from the border.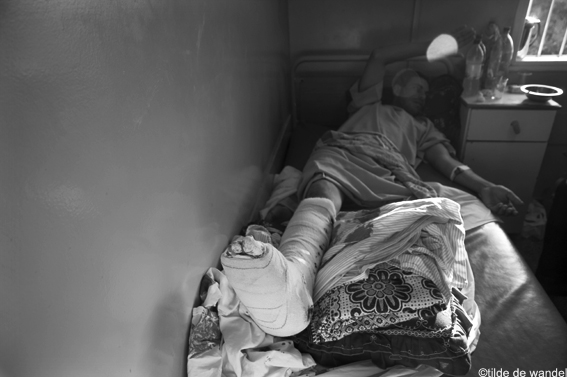 The farmer whose olives we were picking laments the history behind the continuous attacks on their land and the destruction of their life before. "There used to be many trees in this area, they bulldozed them and although we have lost so much we have continued to farm it", said Abzel Al Baseony the farmer whose olives we were picking. "Everyone is afraid coming here to farm. They take photos of us from the control towers so they know who we are yet they still just shoot whenever they want at whatever they want. I've been here since 1984 and my father farmed this land before me. We will keep farming."