The International Solidarity Movement is calling on activists to protest in Jerusalem in the third week of October against the annual tourism conference of the OECD (Organisation for Economic Cooperation and Development) which should not be held in the occupied capital of an apartheid state in violation of a plethora of international laws.
>>>>> ISRAEL IN THE OECD:
Despite Israel's persistent violation of human rights as protected by the law, the OECD – whose member countries include most of the rich countries of the world – granted Israel membership on May 27th this year. This not only symbolized diplomatic approval of Israel's policies on the part of the most powerful countries in the international community, but also brought many potential economic benefits to Israel.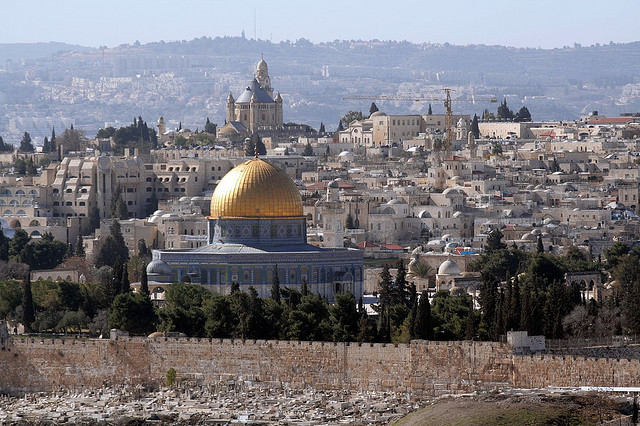 >>>>> ABOUT THE CONFERENCE & JERUSALEM:
The conference consists of 2 parts, in total lasting three days (Oct 20th-22nd). According to the official website the war criminal Shimon Peres will be attending, along with representatives from each of the powerful OECD nations. Its stated aim is to discuss how to make the tourism industry 'greener'.
Having disgracefully admitted Israel to the OECD, this conference represents a further instance of the international community deliberately turning a blind eye to the slow and insidious ongoing process of ethnic cleansing taking place in Jerusalem in which Israel is clearly working to 'Judaize' all areas of Jerusalem, employing numerous means to this end, including: evictions of Palestinians from their homes, house demolitions, residency permit revocation, settler takeovers of Palestinian houses, illegal settlement construction, land confiscation, discriminatory allocation of municipal resources, police persecution combined with impunity for settlers, restrictions on freedom of movement, permit systems and legal discrimination against Palestinians. This is occurring everywhere inside Israel but is perhaps most acutely felt in Palestinian East Jerusalem neighbourhoods such as Sheikh Jarrah and Silwan.
>>>>> OPPOSITION TO THE CONFERENCE:
Because it is unacceptable that Jerusalem plays host to the wealthiest and most influential members of the international community and allows them to ignore Israel's crimes happening in plain sight, a letter of protest was issued jointly by the Alternative Tourism Group, Kairos Palestine and Ecumenical Coalition on Tourism.
The Boycott National Committee has also issued a letter, pointing out that "Rather than condemning such illegal practices under international law, the OECD conference will cement Israel's hold on occupied Jerusalem, and will be perceived as a stamp of approval of Israel's violations of international law in Jerusalem and elsewhere."
The BNC 's statement also points out that "Internationally, tourism is overtly deployed by Israel to 'rebrand' the state as an attractive holiday destination, and to cover up its occupation, colonization and apartheid policies." By turning a blind eye to war crimes and holding this conference in Israel, OECD members are sending a signal that they are willing to be complicit with Israel's oppression of Palestinians and actively support Israel's PR efforts to whitewash its illegal practices.
It concludes: "The OECD ought to respect its own obligations under international law and relocate this ill-conceived conference out of Israel. Failing to do so will further undermine the organization's already dismal respect for human rights and the international rule of law."
>>>>> PROTESTING THE CONFERENCE:
But sadly it seems unlikely that the rich nations of the world that make up the OECD membership will relocate this conference. So instead we must ensure that it is not carried out in the heart of Jerusalem without attention being drawn to the issues of real importance. No business as usual at the expense of justice!
No-one organising or participating in this conference can make a credible claim to be ignorant to Jerusalem's ugly realities – occupation, racism, and the destruction of lives.
It's clear they are trying to avoid the issue – just take a look at the sentence that's been guiltily omitted from the description of Jerusalem used here on the OECD conference website compared to the otherwise identical description supplied here on a separate conference site. (The OECD description omits the sentence about Jerusalem's Old City, in an attempt to avoid controversy). They also take pains to note in their expensive package tour offers for delegates that the Jerusalem tour covers the west of the city only.
But it's not enough to try and skirt this issue this way. They are and rightly should be politically sensitive to this issue and must be embarrassed and shamed for choosing to hold the conference in Jerusalem despite Israel's continual flouting of international law, violation of human rights and oppression of Palestinians inside Israel, in the occupied West Bank and in besieged Gaza.
Contact – palreports@gmail.com if you can come to Jerusalem to protest this event in October.
>>>>> OTHER EVENTS IN OCTOBER:
* Olive Harvest
If you're coming to Jerusalem in October to protest the conference, you could also spend 2 or more weeks on the Olive Harvest campaign run annually in Palestine, where volunteers support farmers to harvest their crops. Approx Oct 8th – Nov 20th. More information here.
* Rachel Corrie Trial Dates and Commemoration Event
October will also be an important time for ISM and for the family, friends and supporters of Rachel Corrie. The last trial dates in the court case, which represents the most important hope for justice in the seven-year struggle, will be happening in late October (possibly one in early November). People are encouraged to attend the court in Haifa, Israel. See Rachel Corrie Foundation site for more info.
Although a verdict will likely not be announced until the spring, ISM in the West Bank are hoping to organize a commemoration event including a screening of the film 'Rachel' by Simone Bitton and hopefully Rachel's parents, Craig and Cindy Corrie, will be able to attend. An exact date and venue will be confirmed nearer the time.