3 August 2010 | ISM Media
Yesterday morning (2 August 2010) a group of Israeli soldiers, reportedly drunk, used two bulldozers to destroy a well that belonged to a family living in Wad Lerus, Hebron.
Several ISM activists went out to talk to members of the Al Jaabel family in Wad Lerus, close to the Kyriat Arba settlement in Hebron, yesterday afternoon.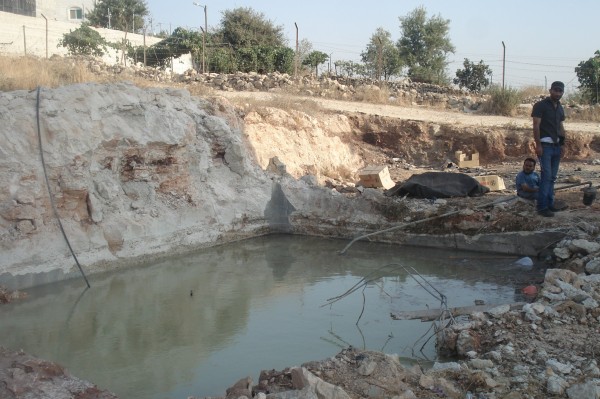 The family members we talked to were very upset since Hebron already has limited water supply, and they depend on this private well in front of their house as a water source, as do some of their neighbours.  They had also invested a lot of resources, both on building the well and filling it with water.
They explained that a group of approximately 50 soldiers and border police arrived at the family home at 11:00 in the morning on Monday. The soldiers were reported to be drunk, drinking cans of beer while carrying out the destruction work. ISM activists observed empty beer cans scattered around the destroyed well.
The family said that soldiers and border police brought two bulldozers, and that these were used to destroy the walls at the side of the well, causing huge rocks to fall down into it. When the family tried to stop the soldiers, they were met with violence and aggression, including towards the women. The soldiers also destroyed the gate to the house, which was now standing at the side, off the hinge. The attack lasted for about 30 minutes, and severe damage was done to the well during this time. Several water pipes were also cut off.
At the time ISM visited the family, they were about to empty the well since they fear that children might fall into it. There used to be an edge preventing this possibility, which was bulldozed down by the soldiers. The family told us that they had just bought and refilled the well with 80 cubic meters of water, to the cost of 2000 shekels, and now they had to see it all going to waste. The incident was the first time they had experienced a military attack of this nature, and even though they fear it will happen again, they have no other choice but to try and rebuild the well.