Adalah-NY: The Coalition for Justice in the Middle East
31 December 2009
Sixty human rights advocates protested outside Egypt's Mission to the United Nations today to demand that Egypt open its border with the Gaza Strip. The New York protest came as Egyptian riot police in Cairo surrounded and assaulted hundreds of international activists who had been prevented by Egyptian authorities from entering the Gaza Strip. The international activists had planned to protest in Gaza against Israel's siege as part of the Gaza Freedom March. Following the demonstration at the Egyptian Mission, the New York City protesters marched to the Israeli consulate chanting, "Free Gaza Now".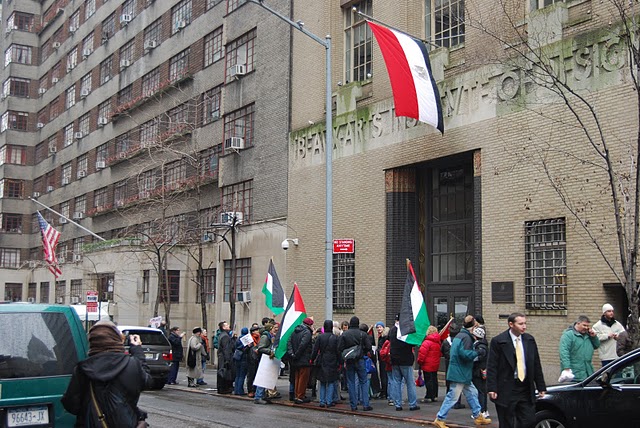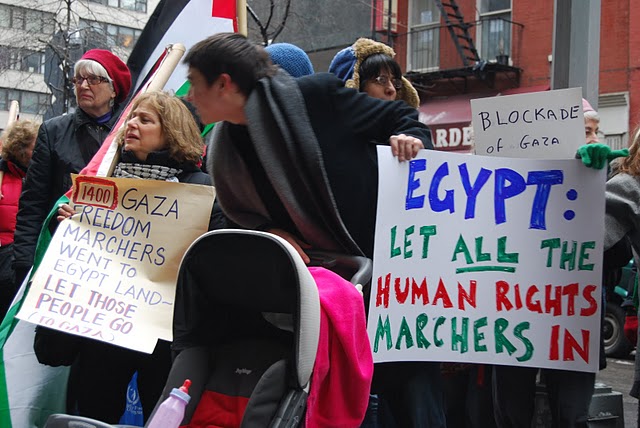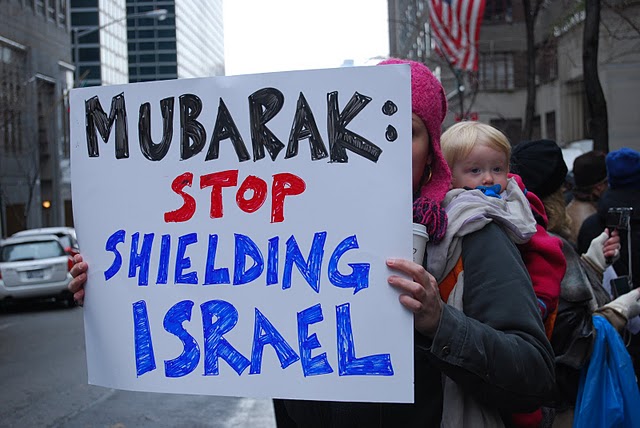 Holding Palestinian flags and signs calling for an end to the siege of Gaza, New Yorkers sang US civil rights song to the staff inside Egypt's Mission to the UN, asking:
Which side are you, which side are you on?
Justice or oppression, which side are you on?
To the tune of another civil rights classic, they sang:
Ain't gonna let Mubarak, turn me round, turn me round, turn me round,
Ain't gonna let Mubarak, turn me round,
Gonna keep on walkin', keep boycottin', til Palestine is free.
At the New York demonstration, a delegation of three protesters entered the Egyptian Mission and gained a meeting with Egypt's Representative to the UN. They told him of their concerns over Egypt's repression of the Gaza Freedom March and Egypt's complicity in maintaining the siege on Gaza.
On the one year anniversary of Israel's assault on Gaza that killed around 1400 Palestinians, over 1300 activists from around the world had gathered in Cairo, planning to travel to protest in Gaza alongside thousands of Palestinians for the Gaza Freedom March.
Israel intensified its siege of Gaza with the military attack 'Operation Cast Lead', that began on December 27, 2008. In addition to killing approximately 1400 Palestinians, Israel's attack destroyed factories, schools, homes and land. For the past year, Palestinians in the Gaza Strip have been cut off from adequate food, medical supplies, and materials for reconstruction, schooling and work. The Egyptian government has been an active partner with Israel, closing the only access point to Gaza that is not directly controlled by Israel, and shutting down operations of human rights activists in Egypt.
A new report by Amnesty International, Oxfam UK, Mercy Corps and thirteen other international humanitarian organizations explained that, "The international community has betrayed the people of Gaza by failing to back their words with effective action to secure the ending of the Israeli blockade which is preventing reconstruction and recovery." The report also explains that, "The Israeli authorities have allowed only 41 truckloads of all construction materials into Gaza since the end of the offensive in mid-January. The task of rebuilding and repairing thousands of homes alone will require thousands of truckloads of building materials."