Bil'in Popular Committee Against the Wall and Settlements
18 December 2009
This Friday the demonstration organized by the Popular Committee against the Wall was joined by dozens of leaders, members and supporters of the Popular Front for the Liberation of Palestine, marking its 42nd anniversary. As every Friday a number of international and Israeli peace activists and residents of Bil'in and neighboring villages took part in the protest.
After the Friday prayers, a joyful and wet group of demonstrators carried banners condemning the Israeli occupation and its repressive practices while they marched towards the Wall built on Bil'in's land.
Slogans and speeches called for national unity and emphasized the principles of the Palestinian state. When the demonstrators approached the Wall the Israeli army fired sound bombs and tear-gas grenades and after a while the soldiers proceeded to fire rubber-coated steel bullets.
The Popular Committee Against the Wall and Settlements just won the "Arab Creativity Award" for 2009, which was presented at a special ceremony held on 10 December in Kuwait. The Popular Committee is proud to receive this award, which is a celebration of their achievements in the 5-year long resistance against the occupation and is committed to continue in their struggle. It comes a year after another prestigious award, Carl von Ossietzky Medal for outstanding service in the realization of basic and human rights, awarded by the board of trustees of the International League for Human Rights in Berlin. Bil'in Popular Committee also received the Yasser Arafat award in 2007, the highest award associated with the late leader Yasser Arafat.
The Popular Committee Against the Wall and Settlements in Bil'in also appealed to the international human rights organizations, UN Human Rights Council, the International Committee of the Red Cross and the General Assembly of the United Nations to intensify and co-ordinate their efforts and pressure on Israel in order to release of Abdullah Abu Rahma, coordinator of the Popular Committee, along with other political prisoners arrested during a night raid campaign conducted by the Israeli military over the last 6 months.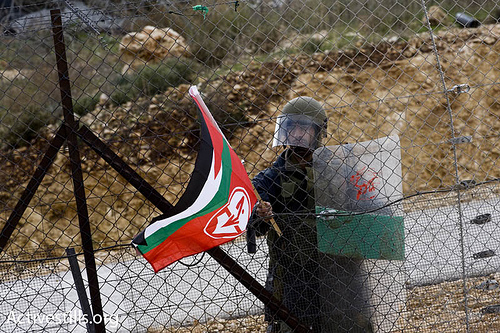 Just hours before today's demonstration, Bil'in was once again invaded by the Israeli army. Five jeeps full of Israeli soldiers and immigration officers entered the village in the early hours of Friday, surrounding and invading a house which is used by international solidarity groups and activists. The soldiers ordered everyone to leave the house, checking the passports and belongings of activists from around the world who came to protest in solidarity with the residents of Bil'in. They declared the whole area a 'closed military zone', failing to present documents allowing them to do so.