Popular Struggle Coordination Committee
14 November 2009
The protesters were arrested as the demonstration was coming to an end, by soldiers who invaded the village and flanked them from the back.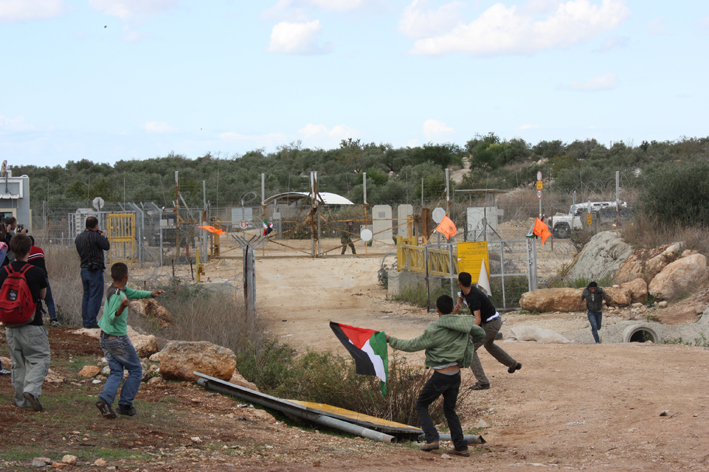 Eighteen demonstrators were arrested today in the West Bank village of Deir alGhussoun, north of Tulkarem, after Israel's Separation Wall was breached by Palestinian, Israeli and international activists. The protesters intended to march to village's lands that were left isolated behind the Wall, and managed to break open one of the barrier's gates.
The demonstrators managed to break the lock on the gate by rocking it back and forth, despite the presence of soldiers, but could not reach their lands, as they were being shot at with rubber-coated steel bullets and teargaW. One demonstrator was lightly injured after being struck with a rubber-coated bullet in the leg.
As the demonstration was coming to an end, a large group of soldiers surprised a group of the protesters by closing in on them from the direction of the village, and arrested eighteen of the village's youth.
Today's demonstration was the opening salvo for a public campaign by the Deir elGhussoun municipality and the affected farmers, which will accompany an appeal the Israeli High Court of Justice to remove the already-built Wall from the village's land. The said appeal is expected to be filed in the near future.
The wall in the area of the village cuts deep into West Bank land, leaving about 2,500 dunams (620 acres) of the village's land west of the Wall (on the "Israeli" side), effecting 120 land owners, dozens of which do not receive permits from the Israeli army to even minimally tend to their lands.
In an advisory opinion issued in July 2004, the International Court of Justice in the Hague has declared the path of Israel's Wall in the West Bank illegal in its entirety, and ordered its removal. To date, Israel continues to disregard international law, and continues to build the Wall and expand settlements.