Bil'in Popular Committee Against the Wall and Settlements
27 November 2009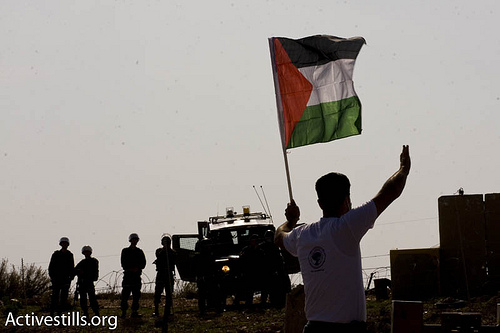 Under the slogan, "Towards a Palestine free from settlements, the Wall, Apartheid roads, checkpoints and roadblocks, and for one united Palestine with no islands and cantons", the residents of Bil'in, joined by international and Israeli activists, gathered in a protest after the Friday prayer. The protesters raised Palestinian flags and banners calling to hold on to Palestinian rights including Jerusalem, right of return, borders, access to water, the release of all detainees and removing the Wall and settlements.
A representative leader of Fatah, Mohammed al-Madaniy, and Leila Ghanam, the Governor of Ramallah and al-Bireh, joined the Bil'in residents in today's demonstration.
A Greek group participated with the people in Bil'in to give their support. The international activists carried banners showing their solidarity with the Palestinian people and the Palestinian right to resist the occupation and live in peace on their land. A British activist, Jody McIntyre, said: "We came to be in solidarity with the Palestinians, we believe in their right to live in peace. We are here today in Bil'in because we see the Wall as an obstacle to the building of a Palestinian state". Sasha Solanas, from the United States, said: "I'm here today to show my solidarity with the Palestinians in Bil'in on the International Day for the Solidarity with the Palestinian people. I have heard a lot about this village and the weekly protests against the Wall and settlements. I admire the struggle in Bil'in, and I'm happy to be here with you today."
The protesters marched towards the Wall built on the land of Bil'in chanting and singing slogans to resist the occupation, hold on to the Palestinian rights, and a national unity among the Palestinians. When the demonstration reached the razor wire placed by Israeli soldiers to block the protesters, the Israeli army announced a closed military zone, but the protest kept moving towards the gate. The Israeli soldiers fired teargas canisters and stun grenades, dozens suffered teargas inhalation.