22 October 2009 | Ma'an News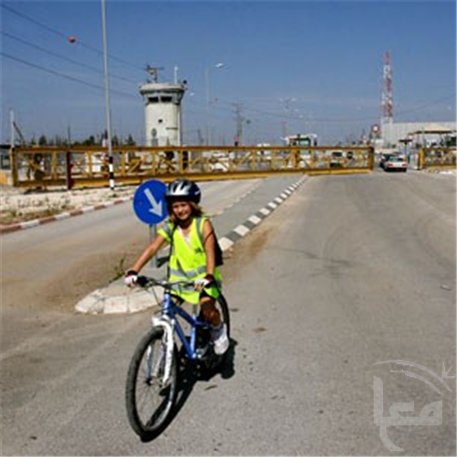 Eight-year-old Alexandra Darby, the niece of Quartet envoy Tony Blair, toured the West Bank this week on a bicycle, peddling an estimated 200 kilometers from Amman to Jerusalem.
Asked what she will tell her school friends about the Peace Cycle journey, Alex reflected, "I'll tell them that the people here are very nice, not like they say in the newspapers."
The West Bank is not a usual vacation site for most eight-year-olds. But, as mother, journalist and activist Lauren Booth explained, "She's been asking me for the last five years why she can't go to Palestine, and despite the fact that the Israelis can make it bloody trying to get in and out, the greeting here I knew would be so sensational for her that I didn't have a reason not to bring her."
Why doesn't Alex think other kids get to come to Palestine? "Because, of course, the telly, which says Palestinians are not like us, that they are a revolting people, a violent people, a nasty people, it's mad. In fact it's the exact opposite, it's the Israelis."
Alex and Tony visit Hebron
On Tuesday, Alex visited Hebron with the Peace Cycle Group. As she entered the streets leading to the Old City, she saw her uncle's motorcade drive away.
While in the city, mom Lauren had heard the Quartet envoy, and husband of her sister, may be in the area. "We tried to wave them down," she said, but "they thought we were just waving at them [as fans] so they just waved back. They thought people on the streets were waving at them, which was a bit frustrating."
But it meant Alex had the fortuitous experience of meeting the people who had just escorted Blair around the city. His visit was reported as a chance for Blair to hear about the troubles of Palestinians in Hebron so he could better inform the decisions of the Quartet as it pushes its Middle East peace Road Map.
"As soon as Blair left, we arrived and got to speak to the local dignitaries and to the police who had been part of showing him around, and their disappointment was total," Lauren explained.
"He was shown into the mosque and cheered in by Israeli soldiers. He went not through the cattle grid and the humiliation of checkpoints that the local population has to go through to get to their own mosque; he went in through open doors used only by Israelis. How is he going to learn, and make any judgment about what the Palestinian people need, if that's the sort of trip he makes?"
Touring the area with her mom and the group, listening to the way people talked about Blair's visit, and what he was supposed to be doing, reminded Alex of the Hans Christian Andersen fable The Emperor's New Clothes. The tale is of a leader who hires swindlers to make him new robes and is fooled into believing they are made of a magical fabric that only the worthy can see.
"Do you know the story of the emperor's new clothes?" she asks, "Well the emperor is blinded by what they do, because for real there is nothing there. And I think that's what they are doing, because when he went to visit the Old City, and well, the Israelis didn't make him go through the metal bit to get into the mosque; he went through the wide bit. So he thinks, 'Well, then it's right what they say, these people aren't poor, these people aren't under an occupation.' That's what they are trying to make him see, so he can make others see the same."
"The Palestinian Authority is culpable in this as well," Lauren adds, "they arrange these visits so that he doesn't have tea with a local family; they go along with these supposed security issues that allow Israel to protect foreign diplomats from the supposedly violent Palestinians and they never get to see the real situation."
Alex, however, saw the real Hebron.
"I felt a bit scared in Hebron," she admits, tucking her legs up into the chair, "You never really could be alone. When you came in there are Israelis looking down at you, then we got to one bit, there was this big thing the Israelis could look through just to see far-er, and he had a big gun," Alex said describing the guard towers that dot the Old City.
"She has been afraid twice," Lauren explained, "both times because of settlers, and that's disappointing that she had to feel that. I never want any child to have to go through that, but she did… and it really affected her."
Going home
Wednesday was the last night for Alex and Lauren in Palestine, so thoughts turned to what would happen when she returned to class.
What did she tell her friends before leaving? "I've told them about the siege, but they don't listen, my best friend listens though."
What will she tell them when she gets back? "I think it's a mad idea to build a wall, to think of people getting guns and building a giant wall around France and saying 'This is England;' it's mad."
Does she think her visit will prompt them to come and see the place for themselves? "I don't really think they will, because if I tell them about the soldiers they'll be scared… I think their parents would come first, to get to know some people and make friends, then when they know the people quite well and that they're nice, then perhaps they'll bring their children."
That comment prompts an idea in Lauren, who, along with the other members of the Peace Cycle Team, has used the trip to make connections with local initiatives, hoping to pair them with organizations in the UK and Europe. "You need to know the people first, you're right. Do you think your classmates would want to Skype with the kids in Jenin that you met?"
Alex nods, excited about the prospect of keeping in touch with some of her new friends.
"I have brought the most precious thing in my life to Palestine with the knowledge that she will be loved and cared for," Lauren says as the buss rolls up to take the group to a school for the blind in Beit Jala, "and that she has found this to be a place where children are adored and not in the least like she would have expected it to be as a child exposed to the news."
Getting nervous about the visit, Alex asks if we want to hear the song she will share with the children at the school.
"Are you ready?
Free my people Palestine – Sing it loud
We will never let you die – Sing it loud
Palestine West Bank Ramallah Gaza, this is for the child that is looking for an answer
I wish I could take your tears and turn them into laughter
Long live Palestine, Long live Gaza!"