February 27th, 2009.
In the early hours on February 24th, Israeli Forces invaded the villages of Sa'ir and Idhna, in the Hebron district of the southern West Bank, and arrested four men. More than ten jeeps entered Idhna at approximately 12:30am. Around 40 soldiers surrounded the house of Hatem Mahmoud Al-Kharuf, and ordered all the family members outside. They then proceeded to search the house, turning everything upside down and smashing a bedroom wardrobe. A shared Taxi (service) owned by Hatem's brother that was parked outside was also ransacked, with the soldiers tearing off large pieces of the interior and inexplicably breaking open the airbags. The taxi was just recently bought, and the total cost of the damages exceeds $2,800 USD.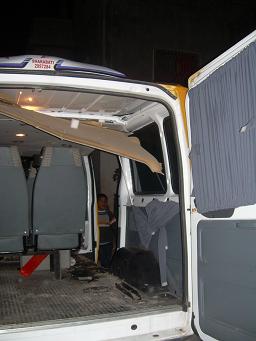 Soldiers then arrested Hatem Al-Kharuf, a 37-year-old retired UN schoolteacher. Hatem was handcuffed, blindfolded, and taken away in an army jeep. He is currently being held in Gush Etzion on unknown charges. Israeli Forces withdrew from Idhna at 3:00am.
Around 20 jeeps of soldiers also invaded Sa'ir village at 6:00am. The army fired live ammunition in the streets and ransacked at least three houses. Three residents of Sa'ir were arrested, including Mohammad Mahmoud Jaradet, a 28-year-old construction worker. The soldiers told Mohammad that they were looking for his brother. When they could not find him, they arbitrarily arrested Mohammad in his place.
Additionally, for the past week Israeli forces have been entering Beit Ommar in the northern Hebron District daily, firing indiscriminately in the streets for hours at a time. One young man was shot one week ago in the leg with live ammunition. He was taken to hospital in Ramallah where he remains because of serious complications.