28th December 2008 – East Jerusalem
Update: On the 29th of December, Naser Jamjoum, (42), one of the participants in the non-violent demonstration 28th December was arrested after having participated in the last two demonstrations.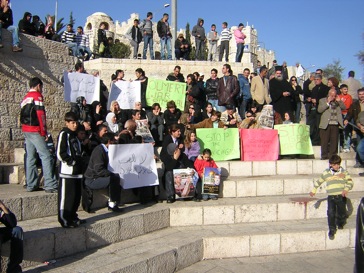 At 2pm on the 28th of December, a demonstration to show solidarity with the people in Gaza took place in Jerusalem.
The demonstration to support the people in Gaza and to show the participants anger at the Israeli attacks, took place near Damascus Gate in the old city. The demonstration also called to break the silence of the whole world about what is happening in Palestine.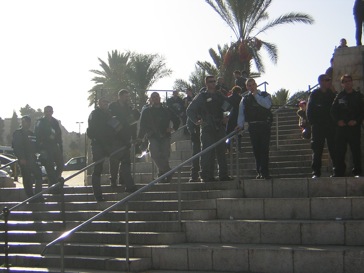 The demonstration began with 21 people leaving from the solidarity tent in Sheikh Jarrah, towards Damascus gate while carrying signs and banners. When they got to the Gate more people joined, with a total of eighty people gathering to join the demonstration.
Signs were shown to the people walking by with the demonstrators chanting. The demonstration lasted for about one hour and a large number of police and border police were surrounding the demonstration forcing a couple of young participants were forced to show their IDs.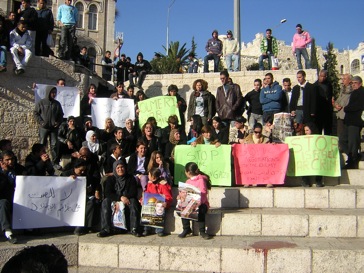 Um Kamel al-Kurd – Sheikh Jarrah:

"I want to tell Israel to stop the war on Gaza and the Arab world to stop talking and act to stop the attacks in Gaza. This is enough!"
On the signs several different messages were written, including, "Calling for Palestine", "One state, one Palestine, one nation", "One nation, Muslims and Christians together."