Israeli forces have killed one Palestinian man from Ni'lin, while another is in critical condition, as they opened fire on a demonstration against the Israeli massacre of the people of Gaza.
Arafat Rateb Khawaje, 22 years old, was shot in the back with live ammunition, he died at 2:45pm in Ramallah Hospital.
Mohammed Kasim Khawaje, 20 years old, was shot in the forehead with live ammunition from close range. He remains in critical condition in Ramallah hospital.
Mohammed Sror was shot in the leg with live ammunition, but his injuries are not critical.
Sara Weinberg, a resident of Chicago, said, "The internationals that live in the village went out in solidarity with Ni'lin residents to demonstrate against the massacre on Gaza. I was standing about 15 meters from the boys, when we heard the sound of live ammunition. I heard screams and saw that 3 had been shot. One man was shot in the leg, another in the head right above the eyebrow and a third was shot in the back. Men carried all three, the one shot in the head was bleeding profusely. The one that was shot in the back was unconscious. We ran down to the street from the olive fields and the soldiers would not stop shooting tear gas at us. It took the soldiers at least 5 minutes to let the ambulance through the checkpoint at the entrance to the village."
Israeli activist Jonathan Polack said that;

"Fifteen Palestinian youths were protesting when five soldiers, who were 15 metres away opened fire with live ammunition straight at the group of protesters. They shot one protester in the back, one in the forehead and one in the leg"
Ibrahim Amira, member of the Popular Committee in Ni'lin said;
"The Occupation is going to turn Ni'lin into a ghetto as it has turned Gaza into a ghetto. And the same way that a massacre is taking place in Gaza against those resisting the siege, a massacre is now taking place in Ni'lin against those resisting the Aparthied Wall"
Arafat Khawaje is now the third resident of Ni'lin to be killed by Israeli soldiers during demonstrations against the construction of the Apartheid Wall on Nil'in's land.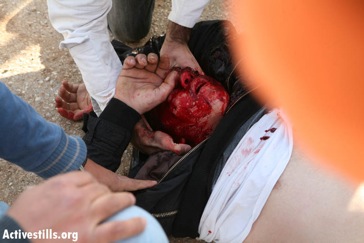 On the 29th July 2008, ten year old Ahmed Mousa was shot through the forehead with live ammunition, killing him instantly. The following day Yousef Amira was shot twice from close range with rubber-coated steel bullets leaving him brain-dead. He died a week later on 4th August 2008.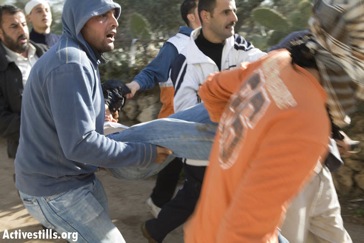 Lina Escobar, a Spanish citizen who witnessed the attack, stated;

"By agreeing to upgrade relations with Israel the European Union is rewarding Israel for it's policies of mass murder in Lebanon and Palestine. It makes it complicit in the murder of the youth of Ni'lin for protesting their village being turned into a prison by the Apartheid Wall"
For more information and for photos of those killed and injured please contact:
Adam Taylor – ISM Media Office – +972 598 503948 or email palreports@gmail.com