20th December 2008
After welcoming the 5th Free Gaza boat this morning, ISM activists based in the Gaza Strip went to see the site of an Israeli rocket attack that had occurred just as the boat arrived, at about 8.30am. Three rockets were fired from a drone plane, killing an Al Aqsa Brigades fighter and wounding a second.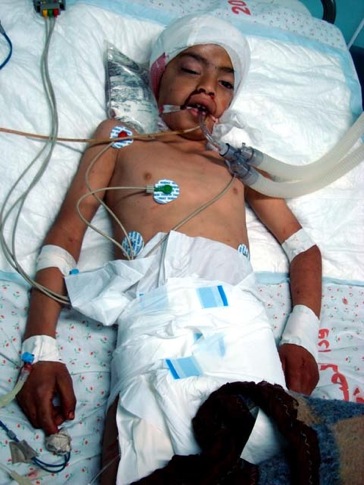 Sari Al Samana
The rockets hit farmland where local families were working their land, grazing their sheep and goats. They ran from the area during the attack, but out of necessity were back at work when we arrived at about 1pm. While we were there, a drone plane was visible overhead; the drones over Gaza land near the border are present to such an extent that life must go on beneath them. They fire rockets without warning.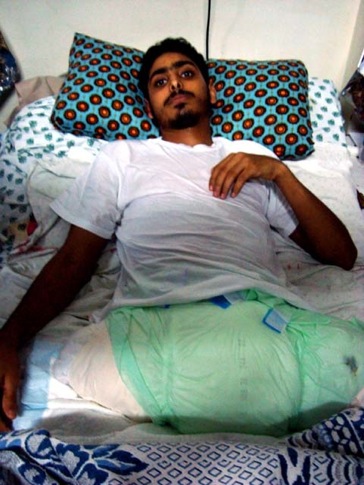 Mohmin Qraqe
Hearing reports of two children struck by one of these rockets as they played, we went visited Kamel Adwan Hospital and spoke to Dr Ali Abd, the surgeon who initially treated them, and Dr Wissam Hiazi. They explained that one child had shrapnel wounds to face, neck, arms, abdomen and legs, but that both children had brain injuries. One child required brain matter to be returned to the cavity. After cleaning and bandaging the wounds and treating the children for shock, the doctors sent them to Al Shifa Hospital which has the neurosurgery facilities most of the other hospitals lack.

Mohammed Abd el Nadi
At Al Shifa Hospital we met the uncle of one of the boys, who confirmed that there had been no Palestinian firing from the "factory area" where the boys were attacked. Sari Al Sama'na, 9 years, and his friend Safi Al Sama'na, 8 years, were playing on their bikes at 2.45pm today when a drone fired a rocket between them. We went to see Sari, who lay with bandaged head and blank half-open eyes, unconscious since the attack. The doctor caring for him explained he had lost a great deal of blood, and it would only be in about 3 days time that it would be clearer whether death, paralysis, or recovery with brain damage or psychological trauma awaited him. Safi was still in emergency surgery, his brain injury even more severe. The doctor estimated 30% of his rocket & missile injured patients were children, and another 30% women or elderly people.
While in the hospital we visited three more patients. Mohmin Qraqe, 21, is a journalist who was working on farmland on December 7, 3.30pm, in the Jabalia area, when a rocket fell 2 metres away. He has lost both his legs from the very top of his thighs. He told us that his father had been killed in the first intifada when he was 7 days old, in 1987, and his 20 year old brother was killed by a drone rocket 4 years ago while attending a youth camp. He was living at home to be with his mother, as his older brothers were all married. He says he heard no Palestinian shooting before he was attacked.
Mohammad Abd Nabi, a journalist for Al Quds Radio, went to Beit Hanoun this past Tuesday December 16, to record a report on an Apache helicopter attack on two women that day. He was flagging down a taxi when rocket blast fractured his arm, and he sustained injuries to his head and leg. He was taken to hospital in a civilian car as ambulances were already out on calls, and initially he believed he had lost his hand. This is his second injury.
Zohair Washaha, 48, has a fractured leg and nerve damage after a ground to ground missile blast at 7am this morning, while he worked on farmland near Al Wafa Hospital. He heard no Palestinian shooting in the area prior to the attack. Zohair is in the only breadwinner in a family of 11, 3 of whom are at university.