28th November 2008 – Ni'lin village
On Friday 28th November at 12.30pm approximately 150 Palestinians, internationals and Israelis gathered in protest against the illegal Apartheid Wall that is now under construction on Ni'lin village's land.
The army met the protesters with teargas and rubber-coated steel bullets half a kilometer before they reached the construction site of the wall. This meant that the people of Ni'lin were now even being restricted from land that is not being confiscated by the Apartheid Wall.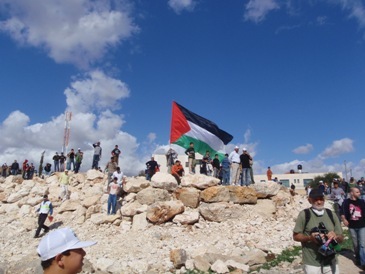 Several people were hit by rubber coated steel bullets and tear-gas canisters aimed directly at persons in the demonstration.
Two Palestinians and one international activist required medical treatment after being hit by tear gas canisters. One of the Palestinians was hit in the chest, breaking a rib, and was taken to Ramallah hospital for treatment.
Todays demonstration started with a prayer close to the medical clinic in Ni'lin with the plan being to continue to the construction site of the Wall.
A bus full of students from An-Najah university, Nablus, came to support the local activists in their shared struggle against the construction of the Apartheid Wall.
The protesters were stopped on a hill top right next to the clinic by Israeli soldiers who shot huge amounts of tear gas and rubber-coated steel bullets from all sides of the group on the hill top.
There were several attempts from protesters to continue towards the construction site, but every time they moved forward they were targeted by the army and pushed back again.
The demonstration ran from 12.30pm to around 5pm in the afternoon.