Video courtesy of Israel Putermam
On Sunday 16th November, approximately 100 Palestinians, Israeli and international activists in the village of Jayyous were stopped in their attempt to demonstrate against the new plans to re-route the Apartheid Wall by Israeli army forces who invaded the village and blocked the streets. Israeli military Armoured Personnel Carriers (APCs) were patrolling the streets of the village throughout the morning, with soldiers harassing pedestrians, claiming the village was a closed military zone.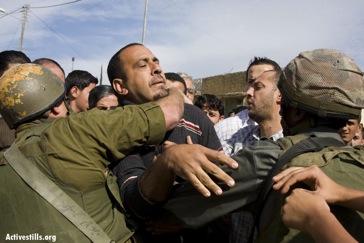 Photos courtesy of Activestills
Approximately 40 Israeli soldiers then formed roadblocks to prevent demonstrators from marching to their farmlands – the majority of which are already divided from the village by the existing apartheid wall. Many of the demonstrators were able to push through the lines of soldiers, but were blocked again further down the road, with Israeli soldiers then declaring the area near the Wall to be a closed military zone. "You can protest here in the village", advised the commander of the units, "but you are not coming anywhere near the Wall", despite the fact that the protest was clearly non-violent.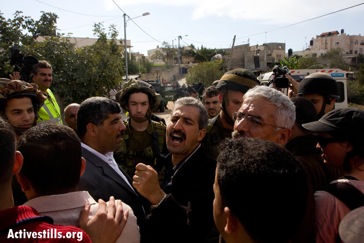 The roadblocks effectively created a curfew in the area, as residents were unable to return to their homes in the area. School children returning home from school were reduced to tears as they attempted to make their way through the rows of soldiers.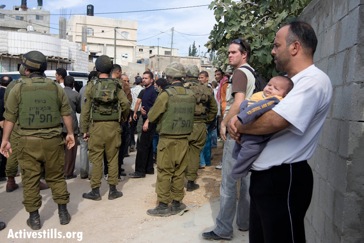 The villagers' demonstration continued for over two hours, with protesters continually attempting to push through the soldiers to get to their lands. Women from the village took up the position as the front line, eventually staging a sit-in in their refusal to give up their fight to get to their lands.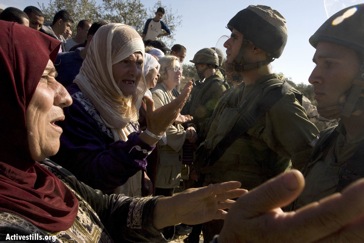 The recent Israeli High Court decision to re-route the wall has been met with a revival of the struggle fought by the villagers of Jayyous when building of the Apartheid Wall first started in the village in 2002. While initially the re-routing, which moves the Wall 2km back towards the green line, may seem like a positive result for the village, the move will in fact destroy a further 200 olive trees, and permanently isolate Jayyous villagers from approximately 6000 dounums of their land, with a further 2000 dounums to be destroyed to make the path of the Wall. Currently, villagers are able to access their lands through a permit system that, theoretically, allows farmers to access their lands through the gates in the Wall. The new Wall has no planned gates. The Jayyous village land that remains on the West of the Wall, as such, will be annexed to Israel forever.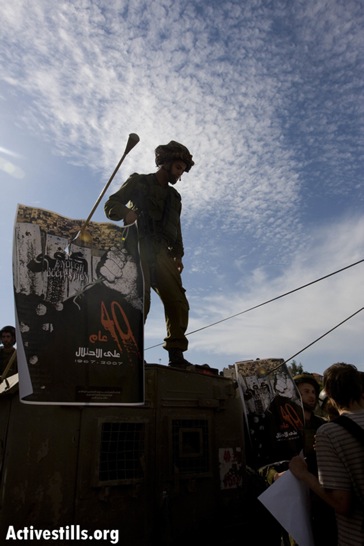 Villagers, with the support of the Jayyous municipality and other organisations, have vowed to fight this construction, declaring Sunday's protests the first in a series of weekly demonstrations against the re-routing of the Wall.