On Monday 20 October farmers in Azmut were subject to a fourth day running of intimidation and intrusion onto their land as they harvested their olives near the illegal settlement of Elon Moreh.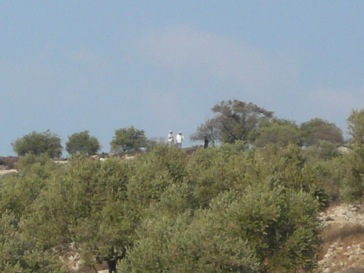 At 15:00 international activists and farmers from the village of Azmut to the east of Nablus city witnessed 3 settlers patrol in their olive groves just 100 metres north of where they were harvesting their olive trees.
This is the fourth consecutive day settlers from the illegal settlement of Elon Moreh have attacked and intimidated residents of the village of Azmut. In a campaign of terror settlers have so far forced farmers from their land, damaged a vehicle and violently attacked a elderly farmer and his family.
Palestinian Presidant Mahmoud Abbas has already stated this year's olive harvest as a 'dangerous escalation' in violence from settlers that has seen 429 incidents in the first half of 2008, against 551 in all of 2007. The harvest in the Nablus region has already seen attacks in the villages of Burin, Deir Hatab, Tell, Huwwara, Kafr Qallil and Awarta. As the occupying force the Israeli army are obliged to provide protection to Palestinians, however in reality the army are at best slow to respond to reported attacks and, as seen in Asira al Qibliya recently, complicit and active in supporting terror attacks from settlers against Palestinians.