A Palestinian teenager, aged 17, who was left brain-dead on the 30th July after being shot in the head by Israeli forces, died this morning. His funeral will be held in Ni'lin later this afternoon.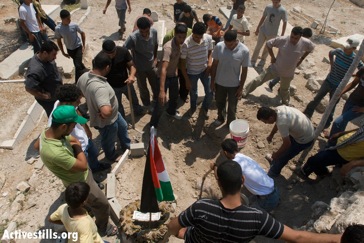 Photos courtesy of Activestills
Israeli forces shot Yousef Ahmad Younis Amera with two rubber coated steel bullets from close range, leaving him brain dead. Actual death occurred at approximately 10am today. Yousef is the second child killed in the village over the past week. On Tuesday (29th July) 10 year old Ahmed Husan Yousef Mousa was shot dead by an Israeli border policeman.
According to ISM volunteers staying in the village, confrontations broke out hours after Ahmed's funeral. Villagers built five barricades of rubble and stones that blocked the main road into Ni'lin preventing Israeli forces entering the village. At about 5:30pm an Israeli bulldozer attempted to clear a path through the barricades.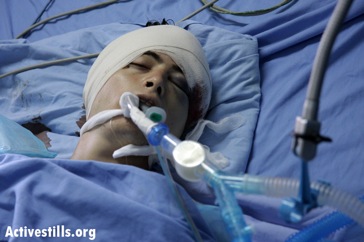 About 50 Israeli soldiers then attacked with sound bombs, rubber coated steel bullets and tear gas. They shot Yousef twice in the head at close range at approximately 7:30pm. Two other men suffered head injuries from a rubber coated steel bullets, but these injuries were not life threatening. A total of 17 people were injured.
According to Israeli Human Rights organisation B'Tselem, "the minimum range for firing 'rubber' bullets is 40m… the regulations emphasise that the bullets must be fired only at the individuals legs and they are not to be fired at children…".
For several months protests have been held at Nil'in against the illegal Apartheid wall that annexes approximately 2,500 Dunums of agricultural land. The people fear this latest land grab will make their village economically untenable.
Yousef is the 8th child and the 13th Palestinian killed protesting against the Apartheid Wall. The other 12 are:
Ahmed Husan Yousef Mousa, aged 10.
Mohammad Fadel Hashem Rayan, age 25.
Zakaria MaHmud Salem, age 28.
Abdal Rahman Abu Eid, age 62.
Mohammad Daud Badwan, age 21.
Diaa Abdel Karim Abu Eid, age 24.
Hussain mahmud Awwad Aliyan, age 17.
Islam Hashem Rizik Zhahran, age 14.
Alaa Mohammad Abdel Rahman Khalil, age 14.
Jamal Jaber Ibrahim Assi, age 15.
Odai Mofeed Mahmud Assi, age 14.
Mahayub Nimer Assi, age 15.
To date, no soldiers or border police have been prosecuted for killing demonstrators.