Prof Jeff Halper, the only Israeli on board two ships that attempted to break an Israeli naval blockade on Gaza last week, was released after being detained Tuesday by police
By Shmulik Hadad
To view original article, published by Ynet on the 27th August, click here
Professor Jeff Halper, the only Israeli citizen to participate in a sea-borne attempt to sail into Gaza on Saturday, was released on Wednesday after being detained by police on Tuesday.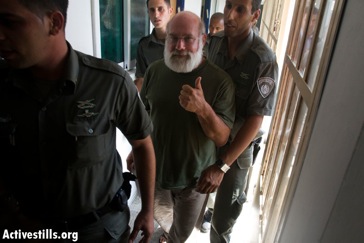 Photos courtesy of Activestills
Minnesota-born Halper, an Anthropology lecturer from Ben Gurion University who also chairs the Israeli Committee against House Demolitions, was among dozens of international activists who sailed from Cyprus over the weekend in an attempt to break an Israeli naval blockade of the coastal enclave.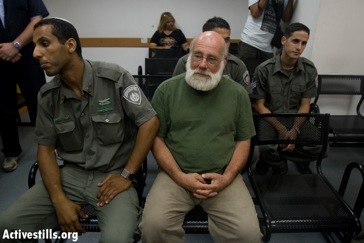 Halper was arrested after he passed through the Erez crossing back into Israel, since he had violated a military order prohibiting Jewish civilians from entering Gaza that was legislated pursuant to the Disengagement in 2005. Police originally thought to release Halper conditionally following preliminary questioning, but apparently decided to keep him in lock-up overnight.
There were two potential charges considered against Halper: As stated, his presence in Gaza violates a military order that delineates the region as a military-only zone. Additionally, he was considered a public hazard, since his presence in Gaza would have made him a prime target for kidnapping, which could have had massive negative repercussions on the state and its citizens.
Police met Wednesday morning with Halper's lawyers, as well as with representatives from the Foreign Ministry and Defense Ministry, to discuss his status. Despite wanting to file an indictment against Halper, the discussions, and in particular a consultation with the Attorney-General's Office, motivated police to release him conditionally.
Halper is forbidden from nearing Gaza for the next 30 days and the court ordered him to pay collateral to ensure his compliance.
During this meeting, one of the professor's lawyer, Yaron Gat, said that Halper had not met with any individuals hostile to Israel, nor had he cooperated with terrorists, but rather merely wanted to promote human rights in by bringing humanitarian supplies to Gaza.
"We are pleased that the attorney general and other government entities understood that this was a purely civil action that, while illegal, was only meant to promote human rights, and that they decided accordingly," Gat said.
Halper said that he pleased about his release. He referred to his illegal action as part of a "historic moment, because we succeeded in breaching psychological barriers and this shows that it's possible to make a connection between the two peoples without the interference of governments and shows that there is a partner on the other side."
"Israel implements a policy of holding the rope at both ends. Allegedly, the state isn't occupying Gaza but it is in charge of the entrances into Gaza, such that it is actually operating in Gaza," he added.
According to information relayed during the meeting, the 'Free Gaza' organization that coordinated last weekend's sail intends to send two more ships from Cyprus to Gaza soon, carrying food.
The head of the Sderot Police Station said that, despite the Attorney-General's advisory opinion, it intends to file an indictment against Halper for his actions.