On Wednesday 9th July, on the second day after the lifting of the Israeli army's siege of Ni'lin, the villagers gathered for a demonstration, marking the fourth anniversary of The Hague ruling which defined the Apartheid Wall illegal.

Video courtesy of Israel Putermam
Around 250 people marched through the fields and eventually reached one of the bulldozers on the construction site.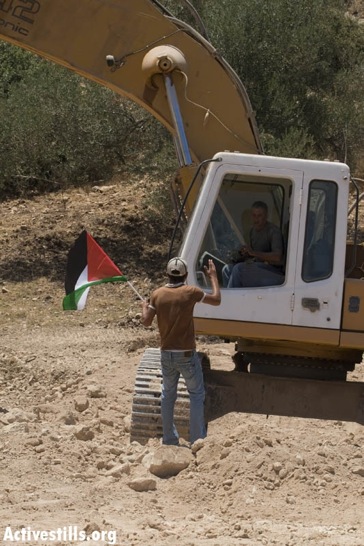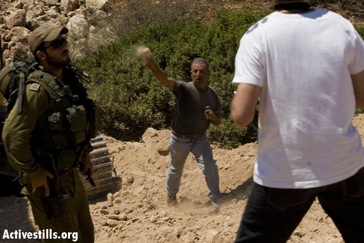 The Palestinian demonstrators managed to disable the bulldozer before soldiers arrived to dissolve the demonstration. The driver of the bulldozer got out of the vehicle and proceeded in throwing stones at the protesters. The soldiers fired live ammunition into the air, and fired large amounts of tear gas, rubber bullets and sound bombs at the demonstrators. Meanwhile a group of women and girls arrived, carrying banners.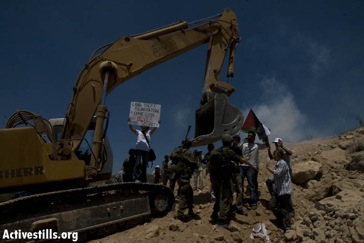 After the demonstration had dissolved people gathered in the streets of the village, though the soldier's closed in on the residents. The soldiers shot more rubber bullets and tear gas, shooting at people as well as into homes. After about two hours the army's attacks came to an end.
In the course of the events a total of four people were arrested, Hassan Yousef Mosa, Ahman Mostafam Khawaja, Wisam Mostafa Khawaja, Abdo, Saeéd Abood. All of them during the demonstration at the site of the wall. Hassan Yousef Mosa was badly abused. The soldiers first surrounded him, after they beat him up they threw teargas at and arrested him. By that time they had to carry him because he was so badly injured. 7 other people were injured by rubber-coated steel bullets and teargas, five of them from Ni'lin, one reporter and one Israeli activist.