Between six o´clock on Saturday night and five the following morning, the Israeli army demolished at least two houses in the neighbourhood of Deir
Bahaa in Hebron, extra-judicially killing one man.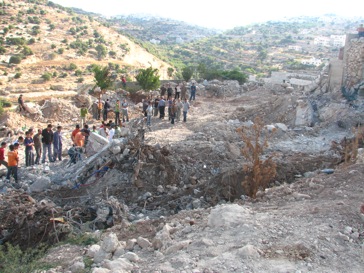 According to Palestinian Radio one of the house belonged to Hamas member Shihab al-Natashe, wanted by the Israelis, who was also killed in the course of the events. The other house destroyed belonged to the neighbouring al-Beitar family seemingly not involved at all. According to medical teams at the spot seven people were injured in total. This information is as of yet unconfirmed, as ambulances trying to get to the scene were stopped by Israeli military.
According to news sources al-Natashe made fierce resistance to the attempts at arrest, a claim supported by information from neighbours, and the fact that the area was besieged and isolated by a large number of army troops for around eleven hours.