Two more home-made rockets were launched from the illegal Israeli settlement of Bracha at the Palestinian village of Burin, near Nablus, on Tuesday 1st July.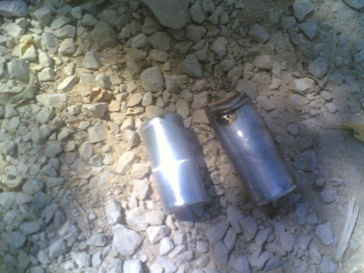 At 1pm, Jamal Najar, a resident of Burin, was sitting on his veranda when he saw a projectile launched from near the illegal settlement's mobile phone tower. "It looked like a rocket," he said. The projectile landed on his land, amongst his olive trees, just 150m from his house, 75m from his neighbour's house. After two minutes a second one followed, coming from the same direction. "The rockets made a loud sound, and a small fire. They made a lot of smoke," he described.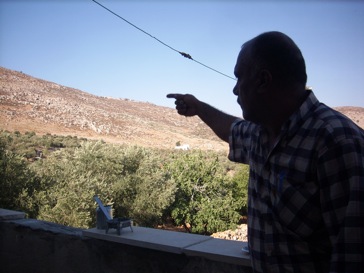 Mr Najah went to investigate, and found the two projectiles, which indeed were home-made rockets made from aluminium pipes – one approximately 20cm long, the other approximately 30cm – without any writing. "Not made in USA," he joked. "Made in Bracha." He described them as being pipes without heads, but closed in on both ends, with a small hole on either end. He took photos of the rockets with his bluetooth phone, shortly before Israeli soldiers arrived and took the pipe rockets away.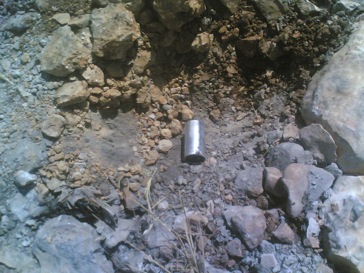 Later, Israeli soldiers and explosives experts returned to the village, scouring the land for evidence, and, more importantly, proof that the rockets really came from Bracha. While Israeli military officials called Mr Najah and advised him that they would catch and punish those responsible, many villagers were not so convinced of their motives. As one member of the local council speculated "These soldiers were sent by the Israeli government to know if it is true or not true – that there really was a rocket. They need to be able to report to the news [stations] that they know what happened."
This is the third rocket in as many weeks to have been launched from Bracha at the village, according to Mr Najah. While Israeli newspapers claimed the first homemade rocket was launched from Yitzhar, the illegal Israeli settlement that is situated on the opposite ridge-line to Bracha, Mr Najah is adamant that it was in fact from Bracha. He claims that the first rocket was launched from near the houses of the settlement, but that it landed in roughly the same area as the two launched today.
"We were not afraid from these rockets [today]," he said. "The first made a fire, these rockets [today] were behind our home without fire." His seeming nonchalance continued as he joked "Next time they will make a big rocket and we are dead." His demeanour changed, however, when asked if his family was actually worried about this. "We are worried that this will happen. The children are worried".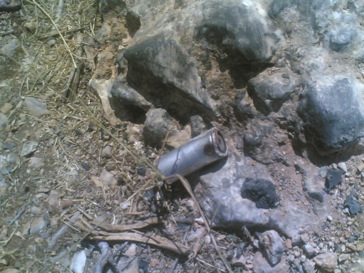 While the village of Burin is constantly under threat from settler attacks, sandwiched as it is between the illegal settlements of Yitzhar and Bracha, Mr Najah reports that in the past months these attacks have become steadily worse. As well as the rocket attacks, Israeli settlers from Yitzhar have set fire to the lands of Burin twice in the past month, once on 30th May and again on 19th June. Attacks have also been made by the settlements of Yitzhar and Bracha on nearby villages of Iraq Burin and Asira al Qibliyia. Residents report that they are unable to go to their lands which are near the settlements for fear of being shot at by the settlers. Settlers also regularly steal the villagers' livestock; kill their animals at night; and cut down their olive trees. Three years ago settlers shot at a car carrying seven Palestinians, causing injuries.
Mr Najah was insistent that while the people of Burin, and the Palestinian people in general, are happy to live in peace with Israelis, the settlements make this impossible. "If the Israeli government wants to make peace, they will put their hand on this land, and they will force the settlers to leave. They have stolen these lands. This is my land from my father, from my grandfather. They have been here since 1984 [referring to when the Bracha settlement was first built], we have been here forever."