A 10 year old boy called Ahmed Ussam Yusef Mousa was shot dead at approximately 6pm near the Palestinian village of Nil'in. He was shot once in the head at close range with live ammunition.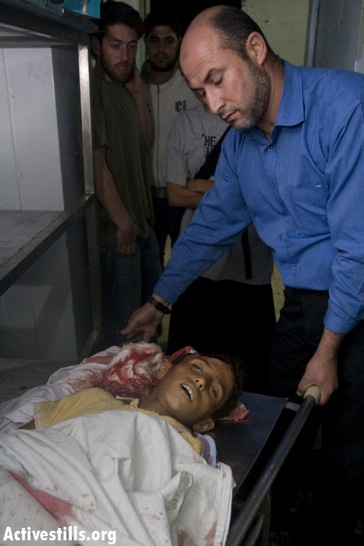 Pictures courtesy of Activestills

According to eye witnesses a group of youths attempted to remove coils of razor wire from land belonging to the village. Without warning, they were fired upon and Ahmed was killed. Israeli newspaper Maariv reported in March that the Israeli authorities have given a new order to border police operating along the apartheid wall surrounding Jerusalem. They can now open fire directly on Palestinians who try to demonstrate near the barrier. But sniping is forbidden if there are Israeli or foreign citizens amongst demonstrators.
Demonstrations have been held almost every day for the past few weeks as near Nil'in against Israel's Apartheid Wall, declared illegal by the International Court in the Hague in 2004. The wall will deprive the village of almost 2,500 Dunums of agricultural land, and put the existence of the entirely community in doubt.
The Israeli Army and Border Police have been increasingly ill-disciplined and violent in response to the demonstrations. News came this morning that Israeli Battalion Commander Lt. Col Omri, had been sent on 10 days compulsory leave as a punishment for his conduct at Nil'in. Omri held a 27 year old Palestinian detainee Ashraf Abu Rahma by the shoulder while one of his men shot Abu Rahma with a rubber coated steel bullet at very close range. Abu Rahma was blindfolded and his hands were bound when he was shot in the foot.
At least 11 other Palestinians have died protesting against Israeli's apartheid wall. Their names are:
Mohammad Fadel Hashem Rayan, age 25.
Zakaria MaHmud Salem, age 28.
Abdal Rahman Abu Eid, age 62.
Mohammad Daud Badwan, age 21.
Diaa Abdel Karim Abu Eid, age 24.
Hussain mahmud Awwad Aliyan, age 17.
Islam Hashem Rizik Zhahran, age 14.
Alaa Mohammad Abdel Rahman Khalil, age 14.
Jamal Jaber Ibrahim Assi, age 15.
Odai Mofeed Mahmud Assi, age 14.
Mahayub Nimer Assi, age 15.
To date, none of the soldiers who killed demonstrators has been prosecuted.