A Palestinian farming family in Iraq Burin, a village outside Nablus, had just made it halfway through this year's wheat harvest when Israeli settlers burned it all down. The family is very upset by this action, since they now might not be able to feed their family and animals. The family discovered the ruined crop in the morning on June 24th.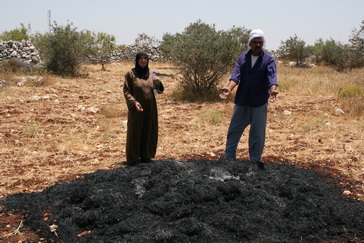 During the last ten years the settlers, living three kilometers away from the village, have an increasing amount of land from Iraq Burin. Setting fire to the land is one way that the settlers have used to try and force local Palestinians off of their land. Last year a whole cultivated hill, belonging to the village, was set afire. It is not only the settlers are causing problems to the villagers, but also the Israeli army. For years they have been threatening to demolish three houses that they claim are too close to the settlement.
The family of nine has owned the land for generations, and beside wheat they also grow olive- and almond trees. They are now unsure if they can continue with the harvest, assuming that the settlers will cause more problems.
Only one night after the settler attack the Israeli army invaded parts of the village. At least twenty families were affected.